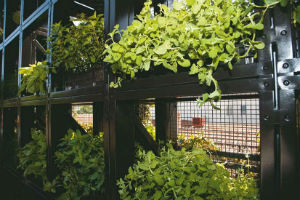 Restaurant Circa at the uber-chic Prince Hotel in the Melbourne bayside of suburb St Kilda has been a celebrated fine diner almost since the day it opened. But now executive chef Matthew Wilkinson has taken the produce-driven menu at his twohatted restaurant one step further by establishing kitchen gardens on two levels of the hotel. In addition to running his brigade of 17 chefs, Matt is now supervising the two vertical gardens planted with all manner of herbs, vegies and companion flowers. He also plans to have a kitchen garden at his new cafe, Pope Joan, in East Brunswick.
Have you always had a green ethic?
Almost by accident if not by design. I grew up in Yorkshire in the north of England. That's tough mining country where people have to be thrifty to survive. In our family, we'd share the bath water as a matter of course and it made me very water-conscious. One of my pet hates now is people taking long showers. Nobody actually needs to spend more than four minutes under the shower. I also grew up a gardener. My grandfather and father were both gardeners, always growing tomatoes in the greenhouse and vegies in the beds. And, being gardeners, they knew about companion plants, so I just absorbed that information. As a result of that background, I really do think that anybody who has a backyard and doesn't devote at least some of it to growing vegies is just being wasteful.
How did the greening of The Prince come about?
The hotel had a green ethic to it from its restoration in 1999. In 2005 they installed the tanks that allow us to store 50,000 litres of greywater. The 18,000 litres of roof run-off is used to water the garden. The remaining 32,000 litres comes from the carpark and it's used for everything from watering the palms and washing down the pavers to cleaning the restaurant floors. We've always recycled everything we could in terms of the oil we use in cooking, the cardboard, the bottles and packaging and, shortly after I joined the staff four-and-a-half years ago, we established a restaurant garden about five minutes away. It was very productive, but through a series of events we had to move, so it seemed obvious to move the garden closer to the kitchen. Since I became executive chef two-and-a-half years ago, we have gradually been moving towards more produce-focused food. Now it's reached the stage where I actively hire chefs who are enthusiastic gardeners.
Wh at has driven your enthusiasm for the kitchen garden? It started with waste. In a restaurant the size of Circa, at least four bunches of herbs go rotten every day. That's thousands of dollars worth of produce going in the bin each year. I'm not trying to pretend this garden will sustain the restaurant, because obviously it can't, but I do hope it will help to reduce the waste.
How difficult is it to make the garden work in a commercial setting?
I'd be lying if I didn't say extremely. Just this week, we've had a caterpillar demolish about 10 boxes of plants. But that's gardening for you. In a sense, I'd already arrived at that position by supporting farmers' markets. When you get to know your producers you hear about their problems with the weather, the droughts and fires and everything else that affects their continuity of supply. You have to stick with them. So, through the years, I've kind of revised my approach to writing a menu. When the growers tell me they've got lots of, say, broadbeans coming on, I put broadbeans on the menu. When the kitchen garden is up and running, the gardener will let the kitchen know when we have a surplus coming up and what's available each day and we won't have to order it from the markets.
How is the garden doing? Extremely well. It's early days yet and, as any gardener will tell you, it takes several years to work out which plants do best in what locations. So we're still settling in, but overall it's going great. Because the garden is on a rooftop, there are added layers to consider, such as prevailing winds, and because we're near the sea, there's salinity to deal with. Bees don't usually like coming up this high, so we're going to bring in some flowers, pansies, nasturtiums and marigolds to encourage them to pollinate the plants. And we have a problem with not enough light on some of the lower levels, particularly in winter, so we're putting in solar panels to capture energy to run artificial light to help the garden grow when the days are short.
What other initiatives have you adopted at Circa?
Apart from recycling practically everything we use, apart from tinfoil, clingfilm and cryovac plastic, we are in the process of introducing a complete composting system. All vegetable matter, chicken and fish bones, cardboard and paper will go into it. What we don't use as fertiliser will be taken off-site for use in other gardens. I just wish someone would create biodegradable rubber bands. You wouldn't believe how many rubber bands come into the kitchen each week. One of our sous chefs started collecting them off the bunches of broccolini, asparagus and other produce packages and he "grew" a band ball the size of a soccer ball in next to no time.
What impact has the kitchen garden had on you?
My whole philosophy of food has changed in recent years. In the past, I focused on pleasing people rather than pleasing myself. But now I am being truer to what I've known all along, that great food is all about the produce. I approach things differently. If people don't like my flavours I can take that on board, so long as they're not rude about it. It's not just about living green, or saving the world, or reducing food miles, though they are all good extras. It's about taste. Freshly harvested produce simply has better flavour. And if we can show people that locally grown food that has just been picked tastes better, then we're well on the way to improving the way people eat. That, of course, impacts on their health and happiness. So perhaps we are changing the world after all.