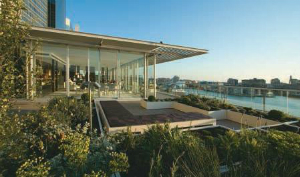 A rooftop garden amid a concrete jungle provides a relaxing sanctuary in a busy world

Words: Rachel Falzon
The 13th floor of an apartment block in a sought-after Sydney location plays host to an amazing rooftop garden. With million-dollar views of the harbour, the owners recognised the potential to create a unique garden and outdoor living space — something that would enhance their lifestyle and, of course, improve any future sale price.
A sophisticated look was a must as the garden was to feature in the midst of a setting complemented by modern architecture. Thanks to careful planning and a clever design by Green Rooms Gardens & Landscapes, rather than seeming enveloped by the surrounding buildings the garden sits in harmony with its city location and gives a great impression of space.
Being situated near the water meant materials and plants needed to be able to tolerate the punishing conditions thrown at it, such as exposure to harsh sun, wind and salt spray. Lavender dentata, Olea europaea, Leucadendron spp, Myoporum parvifolium, Stachys byzantina and Buxus japonica were planted because of their ability to cope with a full-sun position and salt-laden winds. The plants were also chosen because of their drought tolerance. As they were to be established in planter boxes rather than in the earth, they needed to be able to handle drying out every now and again. The palette provided by the plants is mostly blues, silvers and greens, which imbue a calming, peaceful ambience.
The planter boxes were a key element of the landscape's design. They act as a tool to guide the eye while breaking up the expanse of space into smaller areas. They hug the bench seating and create a makeshift pathway through the garden. The built-in seating was designed to fit into the design seamlessly and create spots from which to enjoy the view.
Not only is this design a contemporary masterpiece to look at, it also incorporates water-efficient principles. It has an automated drip irrigation system that has been installed on top of the soil level. It automatically waters the garden for 10 minutes every second day, which means very little water is wasted and the garden itself is quite sustainable. It also means the owners don't need to spend a lot of time watering the garden when they could be relaxing or enjoying it, nor will they worry about it when away from home.
When it comes to building a rooftop garden, it's important to consider how you will be able to deal with any green waste. In an apartment environment such as this, where the setting is so many storeys high, no one will enjoy taking the garden waste down to the bin, even if there is an elevator. The best option is to choose low-maintenance plants, such as those used here, to ensure waste is kept to a minimum.
While the owners are incredibly privileged to have such an area to use as a garden, they needed to ensure they didn't obstruct the water views of the neighbouring apartment dwellers surrounding them. For this reason, relatively low-growing plants were used to ensure no one would object during the process or into the future. Fencing was, of course, a safety requirement but its transparency allows for an uninterrupted vista for the owners.
To ensure its use at any time of day, carefully positioned eyelid lights and downlights create highlights and guidance for those moving around the garden.
To create a seamless flow from the interior of the home to the outdoors, the garden was styled in a minimalist manner. Enhancing apartment living was high on the list of priorities for the owners and a successful design has ensured this brief has been met and exceeded.