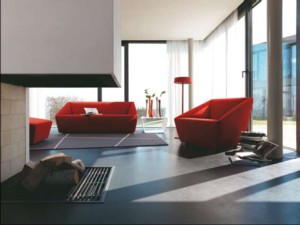 Meeting at the HFG Schwäbisch Gmünd in Germany and becoming more closely acquainted at a common internship in New York in 1990, Markus Jehs and Jürgen Laub were destined for great things in the world of industrial design. Although each made their way to design from different backgrounds, their similarities in the design process led them to open up a successful design studio together.
According to Jürgen, "My father did joinery and I learned to be a carpenter. At the time I wanted to study interior design, but as I learned what industrial designers could do, I decided to study that." Markus had quite a different experience; he was searching for a profession where he could have fun and be successful, when he stumbled upon design. "During my research I discovered industrial design and I found it fascinating because it enables you to materialise your thoughts, desires and wishes," says Markus. When they initially founded their design studio, there were of course no clients, which meant no briefs, so the pair had the pleasure of designing objects that they wanted to work on — furniture — before taking the results to Italy. "We visited all the big names in the furniture industry until one company gave us a chance for a common project. This company was Cassina," says Markus.
Since then there have been many opportunities for Jehs+Laub, explains Jürgen. "There is the Blox for Cassina, the Space Chair for Fritz Hansen, the Cuvert for COR and the Jehs+Laub collection for KnollStudio." Despite their success, the pair claim they don't follow trends with their designs. "We don't care about trends," says Jürgen, speaking on behalf of Markus, too. "The only important thing is the growing consciousness of the people for the environment. That means they are looking for the values a product should have, which are authenticity, environment and longevity." The unique nature of their style comes about from their own experiences. They look for simple ideas and stories that a product can tell and hope these stories are translated to the customers in the final piece. "The diversity in our designs comes from the co-operation between the manufacturer — his background, history, nationality and culture — and us," they clarify. Due to this storytelling approach, a major part of their creative work is the discussions about each project. "We are always looking for a strong sentence or word which stands for the idea behind the project and then we let the product design itself," says Markus. "We extract inspiration from watching everyday life with all our senses very carefully. Another important influence is travelling and getting in touch with other cultures and their habits." It is this cultural curiosity that led the team to develop the Jalis for COR.
The inspiration for this lounge suite came from Jürgen and Markus's travels through the Middle East, where they became fascinated with and impressed by the habits and lifestyle in the villages they visited. "Hospitality is everything there," tells Jürgen. "Every time we entered an oasis or village we were invited into people's houses and tents. We were sitting on cushions drinking tea and having good conversations; the locals call that 'Jalis'." Many years after this experience, the two men decided to convert their story into something tangible. They took a cushion, folded it, placed it on a pedestal and had a sofa — but it wasn't as simple as this. "It took us one year to develop Jalis. COR built many prototypes because it is very hard to shape a seat that looks like a natural, folded cushion in the end." The result, like their other creations, is impressive to say the least and would make a modest addition to any setting. The projects created in the Jehs+Laub studio are certainly made with passion, which is a direct result of their passion for what they do. While Jürgen loves being a designer to create things for a better world, Markus enjoys the fact he can "play" all day long. For more information visit www.siekaup.com.au or www.cor.de