Now you can prolong the life of porous surfaces, without changing the look.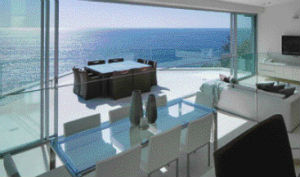 What makes the perfect paving or pool surround? Great looks, a soft feel underfoot, non-slip when wet? The most suitable surfaces (softer natural stones, concrete or terracotta paving, brick etc) are often also the most porous, readily absorbing liquids which can stain or otherwise damage the paving.
Food and beverages are the obvious enemies. When oils absorb into the paving, the marks can be hard to clean or even permanent. Water can be an even more serious problem. Rainwater and ground water are full of dissolved minerals which can mark, clog and even break up a porous surface. Water from salt water pools can be especially damaging, causing salt efflorescence and rapid deterioration of softer materials if not properly treated.
Dry-Treat, an Australian company, is a world leader in impregnating sealer technology. Its unique invisible sealers protect major icons around the world including the Hollywood Walk of Fame and the renowned Imperial Hotel in Vienna, as well as tens of thousands of homes.
Dry-Treat's invisible impregnating sealers provide a unique level of protection. "The science is complex, but the results are simple," says Stuart Anderson, Dry-Treat's MD and chief chemical engineer. "Our specially designed sealing molecules penetrate much deeper into the material and bond permanently inside the pores, creating a nice, deep oil- and water-repellent barrier."
Dry-Treat's deep water- and oil-repellent barrier keeps surfaces looking good by keeping spills on the surface where they are easier to clean and retarding moss and mildew growth. Water carrying damaging salts which are absorbed from underneath or from the edges of pavers is also kept well away from the visible surfaces. Because Dry-Treat's impregnating sealers work from within the pores, there is no significant change to the slip resistance of the treated surface when it is wet.
Dry-Treat's flagship sealer STSTAIN-PROOF is easy for homeowners to apply. STSTAIN-PROOF is also backed with a written 15-year performance warranty when applied by an accredited applicator. Dry-Treat also produces a special impregnator called 40SK which helps give softer materials such as sandstone and limestone a much longer life around salt-water pools.
For more details, CSIRO test results or to find your local dealer or accredited applicator, call Dry-Treat today or visit their or visit www.drytreat.com