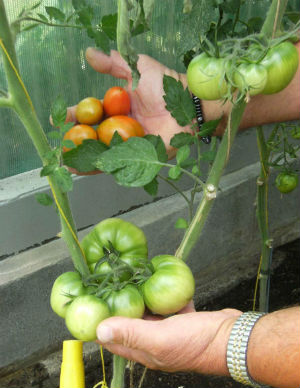 Born on the Greek island of Lipsos in 1941, Eftimios Giameos is the youngest of nine children, with five brothers and three sisters. His father, Yiannis Giameos, who was from the island of Samos, island-hopped over to Lipsos as a young lad, where he met his wife-to-be, Kiriakoula. Lipsos is part of the Dodekanisa, which means "12 islands", and was once occupied by Italy along with a string of other islands, all sharing a similar history of foreign occupation caused by past wars.
Lipsos is not a very large island and is almost free of cars. Even today, if you were to visit Lipsos, you'd find a lifestyle more like that of decades ago, little affected by modern technology and today's social revolution. Eftimios's dad was a proud fisherman and, like all island fathers, handed this tradition down to the boys in the family. The young Eftimios loved his fishing so much he never wanted to be left behind when his father went out to sea. At night, as his father slept, Eftimios would even tie a rope from his own foot to his father's to make sure he wasn't left behind when his dad left early in the morning.
Eftimios arrived to Tasmania on the famous ship Patris in January 1960 and within a few weeks was employed at his first job, as a boiler attendant at the Calvary Private Hospital. He then went on to work as a council labourer for a couple of years before opening his own fish-and-chip shop and grocery store.
In 1963, Eftimios met the love of his life, Maria, at the Blue Moon disco in Tasmania. Soon they were married and are now proud parents to Koula, Poppy, Dina and John. "The kids are all grown up and married now, making me and my wife Maria nine times grandparents," says Eftimios proudly. Babysitting nine grandkids leaves the couple very little time to relax in the garden or watch a game of footy.
As an island boy, Eftimios had spent most of his younger years fishing — "There really wasn't much else to do on the island but fish and eat and hang out at the cafenio (café)," he tells us. Once in Tasmania, Eftimios kept up his passion for fishing but soon discovered he had a similar passion for football, which became as strong as his love of fishing. His team was Sandy Bay Football Club back in those days, their blue and white colours reminding him of his home country. Nowadays, his passion for the game is still strong but lies with the Hawthorn Football Club and he still spends a lot of his time watching footy. One of Eftimios's favourite pastimes is breeding birds in his huge aviary, cockatiels being his favourites. "They are beautiful birds. I love them. I talk to them and they make me happy." Apart from breeding the birds, which he has been doing since he arrived to Tasmania, he gardens.
In fact, he spends any spare time he has (when not watching a game) relaxing in the garden. Even though it's not a huge garden, Eftimios still manages to grow a variety of plants — enough to feed his entire family and some friends as well. His favourite plant would have to be cucumber, with such a successful crop this year that even his eldest daughter, Koula, heard about it in Wollongong, NSW. Something tells me she and her family would have tasted some of the produce, too.
For Eftimios the garden is divided: Maria has her flowers in one section and he looks after the vegies in another area. But when it comes to the cooking, well, that's Maria's domain, especially when a new recipe appears on the TV. Maria just has to try it, but she insists on using the fresh produce of the garden rather than buying anything. Tasmania is quieter and more laid back than the mainland, so it's not all that different from the Greek islands, or any other islands, for that matter, though not as intimate as some. Lipsos, for example, is so small that everybody knows everybody else, so you can't move around the island or do or say anything without everyone finding out. Sometimes, people find out what you plan to do before you even do it!
Whether he is on the island of Lipsos or Tasmania, Eftimios is not one to shy from attention. Lapping up every bit he can get, he tends to forget how old he is when going out to parties, fishing or just having fun with family and friends, explains his daughter Koula with a chuckle. "He acts as if he is still 21. "Many times, he would go out fishing and forget to come back, or he comes back whenever he is ready. No one can say boo to him because he is the boss," says Koula. But, unfortunately, these sorts of habits have consequences. His recent experience when holidaying in Lipsos is a case in point. One morning, Eftimios decided to go out fishing on his own, so even though he knows the island and the waters like the back of his hand, he still ensured that at least his wife Maria knew where he was going. But what they thought would be a simple trip turned into a nightmare.
That afternoon, Eftimios didn't return home in time for dinner and, even though he was in the habit of coming home late, on this occasion his wife Maria felt something was drastically wrong. With little daylight left, making it very difficult to search for him, everyone decided they would wait until morning to begin searching. At the first sign of daybreak, cousins and friends from around the island grouped together and began their search for Eftimios, fearing the worst, though many had faith that he was more than capable of looking after himself in almost any situation. Despite his age, he is fit, strong and full of spirit. It wasn't long before they found him, resting on the western shore of the island near the rocks, with his boat capsized. It seems that on his return trip he misjudged the direction and turned side-on to a wave, which caused the boat capsize — something he has never experienced in his entire life of fishing. But Eftimios is a man with no fear. "Any normal human would attempt to swim back to the island or try to find some driftwood to assist in staying afloat, but my dad was more concerned about his boat sinking, so he attempted to swim back to the island, dragging his boat with him," explains Koula. "He was not going to let his boat sink."
No one on the island could believe what had just occurred. It sounded like a fairy tale story of a man with so much pride and strength that the thought of drowning never entered his mind. His concern for his boat was so strong that he made sure it came back with him — and it did. If you can't find Eftimios spending quality time in his garden tending his vegetables, or relaxing on the couch watching a game of footy, or looking after his cockatiels, there's a good chance he's visiting his island of Lipsos and having a relaxing afternoon of fishing.