With its classic good looks and modern functionality, this spacious new pool is everything the owners dreamed of, and more. It is also a pool which has curves in just the right places — at either end.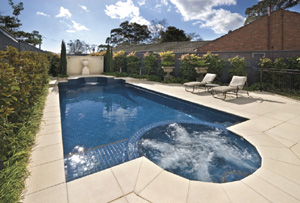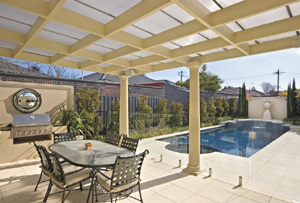 At the end closest to the house there is an inviting circular spa. Adjacent to the covered dining area, this fully tiled spa is perfectly positioned for maximum use and enjoyment.
This is matched by a curved sheer-descent water feature at the far end of the pool. Not only does the shape reference that of the spa, serving to visually connect the spaces, the raised water feature provides a stunning focal point which can be enjoyed whether relaxing in the bubbling water of the spa, dining alfresco, or peering out from the rear windows of the home. Built by Brighton Pools to a design co-authored by Brighton's Denis Gordon and landscape architect Justine Carlile, this pool is a fine example of the high-end projects Denis is renowned for.
Specialising in upmarket It's a classic pools for prestige properties, company founder Denis Gordon has developed an enviable reputation over the years for tailoring pool designs to suit each client's highly individual needs.
"A good swimming pool is basically a reflection of the personality and lifestyle of the client," says Denis. "A pool should look as if it belongs not simply to the property, but also to the people who live there."
After consulting closely with the client and checking the site for existing services, the Brighton Pools team determines the best placement for the pool. The decision-making process includes working out how to complement the surroundings most effectively, and how to work in with the way the owners currently live and how they would like to live in the future.
"When we're designing a pool we ensure the integrity of its surroundings," says Denis. "That, of course, includes the home and any existing landscaping. At the same time, it should actually enhance its environment."