An outdoor area made for hosting a great party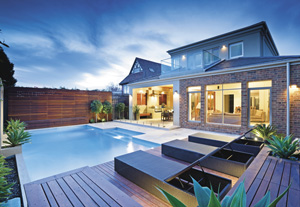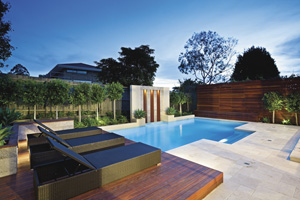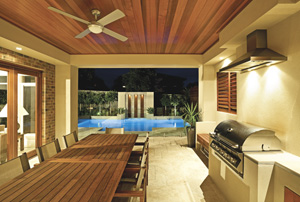 This pool and feature wall is a sensational feature from within the house, looking spectacular both day and night. As the owners and their family entertain regularly, the pool and water feature needed to be a central focal point and, along with their newly created indoor/outdoor entertaining area, complete the package for their home entertaining.
Built by Brighton Pools and designed in conjunction with Justine Carlile Landscape Designer, the pool had to be large enough for the owners' teenage children to swim and relax in, and enjoy with their friends, while still being positioned so as to create a flow from the entertaining area to the pool.
The centrally-located pool was to be a stunning feature adjacent to their newly created indoor/outdoor entertaining room, which abutted their living area. A large retaining wall was built as a central feature with three copper insets. These are surrounded by strata granite, with the remainder of the wall being rendered.
LED lighting was installed above each inset to highlight the water cascading from the three sheer descent waterfalls, creating a stunning effect at night.
Large offset steps were created as a place to rest in the shallows and also added interest to the straight lines of the pool. The decking at the side of the pool is perfect for outdoor furniture or sunbaking.
A large box seat at the opposite end of the pool conceals the pool's thermal cover. An underground water tank was constructed with a common wall to the pool, over which the decking was constructed.
Solar heating was also incorporated to ensure that this pool has little negative impact on the environment.
The final result is a space that is elegant yet practical and can be enjoyed by the entire family for many years to come.
For more than 25 years, Brighton Pools' founder Denis Gordon has been recognised as one of the industry's leading pool and spa designers. Denis is celebrated throughout Melbourne for his original and highly innovative multi-award-winning designs in contextual landscapes, ranging from heritage-listed properties to contemporary, architectural environments.
The integration of Denis' son Jay into the family business 13 years ago established a family tradition. With his father's flair for design, energy and passion for the business, Jay brings a fresh perspective to Brighton Pools.
Denis and Jay personally supervise every project, from creative conceptual design through to flawlessly executed construction and timely completion.