This spectacular pool is the deserving winner of the 2006 National Lap Pool of the Year.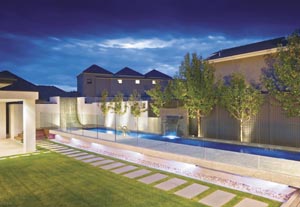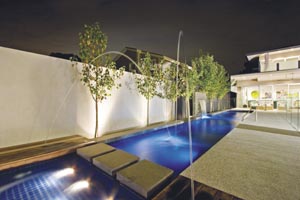 From renowned pool builders Brighton Pools and Spas, this lap pool displays the simple sophistication typical of Brighton Pools' high-quality pools.
The pool features long, clean lines which are repeated through the entire outdoor space. The simplicity of the design creates a feeling of relaxed elegance, where two stunning water features add interest and texture.
Brighton Pools specialises in this type of high-end work. Designs such as this can only work if the designer and builder have a skilled hand and an eye for detail, and founder Denis Gordon has been recognised as one of the industry's leading pool and spa designers for more than 25 years. Denis is celebrated throughout Melbourne for his original and highly innovative multi-award-winning designs in contextual landscapes, ranging from heritage-listed properties to contemporary architectural environments.
The integration of Denis's son Jay into the family business nine years ago established a family tradition. With his father's flair for design, energy and passion for the business, Jay brings a fresh perspective to Brighton Pools and Spas that further enhances its reputation for unique and imaginative designs that are as individual as those of clients' lifestyles and personalities.
Denis and Jay Gordon personally supervise every project, from creative conceptual design through to its flawlessly executed construction and timely completion.
"It is our belief that every design should reflect the personality and lifestyle of the client, maintain the integrity of its surroundings and enhance its environment," Denis says. "Our vision is to develop unique, innovative concepts balanced with traditional design principles to create timeless classics. Our goal is to always exceed the expectations of our clients, providing the highest-quality products and exceptional service delivery.