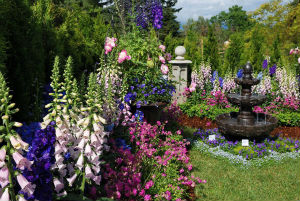 Ornamental grasses and grass-like plants are surging ahead in the popularity stakes
Story: Arthur Lathouris, MAILDM
Until recently, most grasses and grass-like plants have not been at the forefront of gardeners' and designers' lists of favoured plants. This has changed considerably since water restrictions became part of Australian life. Some of these plants have become so popular that they are, from time to time, difficult to buy because growers just can't keep up with demand.
As we've become more familiar with the variety of grassy plants, there's been a realisation that they're not only hardy, adaptable and useful but beautiful as well. They can be elegant and flamboyant with magnificent flowers. The foliage can be colourful and extremely interesting as a focal point or as a "frame" for other plants.
The beauty of kangaroo paws, irises and daylilies has been known for a long time because of their showy flowers but now we're starting to appreciate the subtle and delicate flowers of many other grassy plants, as well as the incredible range of foliage colour and form.
"I hate Lomandra," a client of mine once said when I dared suggest them. The challenge was to convince him (which I eventually did) that Lomandras were not really well represented in poorly maintained traffic roundabouts and islands. There is now such a broad range of Lomandras available for gardens, from the taller upright Lomandra longifolia species and hybrids to the smaller softer, delicate narrow leafed weeping form Lomandra longifolia 'Tanika'.
Lomandra confertifolia, L. glauca, L .filiformis, L. fluviatilis and Lomandra hystrix add to the variety of size, form and colour which can look stunning in both residential and commercial landscapes. The unusual but subtle creamy to yellow flower spike of Lomandras is also a great feature.
Dianellas are another hardy native 'grass' with species and hybrids available in a range of sizes and particularly good form and colour. The mass of delicate blue and yellow star-like flowers are held above the foliage in clusters on a long stem. They grow in sun or part shade.
Poa is another of the emerging native grasses. The most commonly available is Poa labillardieri. It has bluey green foliage which generally forms a soft weeping mound which sways gracefully in even a light breeze. My favourite Poa is 'Suggan Buggan' which initially grows quite upright and gradually weeps. Its mauvy tinged feathery flowers are held tall and straight.
The grandest of Australian 'grassy' plants are the Gymea lily (Doryanthes excelsa) and grass tree (Xanthorrhoea spp.) which make a wonderful statement not only because of their size but also the unique nature of their form. Both have very unusual but stunning flowers held proudly above their main feature, their year-round foliage.
Other natives worthy of a place in the garden are Carex, Crinum, Ficinia (recently changed from Isolepis), Gahnia, Orthrosanthus, Patersonia, Stipa, Thelionema and Themeda. Pennisetum alopecuroides hybrids with their soft fluffy flowers make a striking massed planting but also stand out as individuals. I only mention the sterile hybrids as the commercially available species have serious weed potential in certain areas.
There are many wondrous and magnificent introduced grasses which can be used to create stunning seasonal displays in the garden. Before planting any, it's wise to check with your local nursery if a particular plant has weed potential in your area. I've grown the following in my Blue Mountains garden and have observed no seedlings.
Calamagrostis acutiifolia 'Overdam' and 'Karl Forster' both form stately upright clumps with tall, soft, wispy mauve flowerheads in late spring and summer. The foliage of the smaller 'Overdam' is a striped cream and green variegation. In winter, flower stems and foliage of both plants turn to a yellowy straw colour, which is a feature worth keeping until pruning in late winter, early spring when the new growth begins the cycle once again.
Carex comans and Carex buchananii are both unusual in that their growing foliage is a brown, bronze colour which is quite something when viewed against a green background. Both grow no higher that half a metre and are extremely hardy in full sun to part shade.
Miscanthus sinensis 'Variegata' is a very elegant tall grass (1.5-2m) with the most decorative feathery foliage. (Miscanthus sinensis, the species, was growing as a weed on my property but 'Variegata' has not set viable seed). All parts of the plant turn to a straw colour in winter which can be enjoyed or cut to form decorative "posies" or fire starters.
Cordyline 'Red Fountain' is a relatively new release but is proving to be an absolute gem with its long arching, glossy, deep maroon leaves. It's just been through a frosty mountain winter and is looking just as good as it did in summer and autumn. It appears to be tolerant of dry and difficult conditions as well.
Other grassy exotic plants growing well in my garden are mondo grass (Ophiopogon), tall, mini and black, various NZ flax (Phormium) and Cordyline 'Electric Pink', Carex brunnea. and the stunning Imperata rubra (Japanese blood grass) which glows in its pots on a full sun patio.
Unfortunately, Festuca ovina 'Glauca' a lovely fine soft bluey grass and Carex testacea which colours to beautiful shades of bronze–orange through the seasons have shown some weed potential in my garden but are closely monitored.
Grassy plants are as varied as they are numerous and it would take many pages to even list them. They are well worth growing and will create variety and interest in any garden.