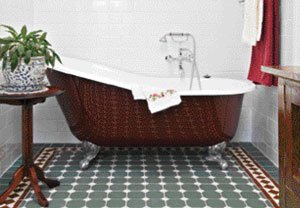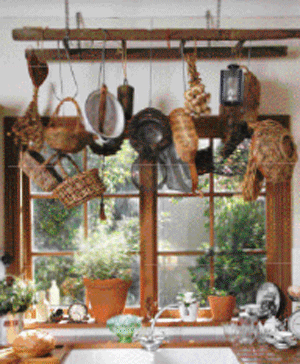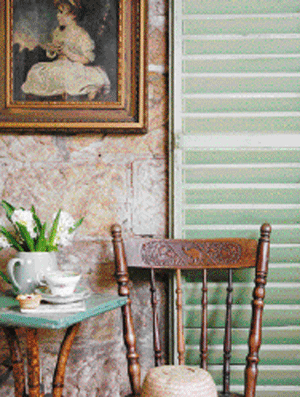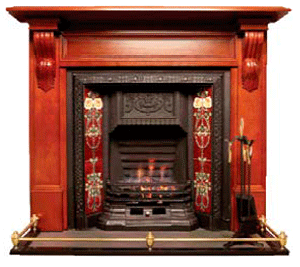 Renovating a period home comes under the heading of 'labour of love'. It requires planning, passion, and commitment. And there may be local council or heritage regulations to deal with. When renovating an old home there is one thing you can be sure of, however: there will be (expensive) surprises along the way – rising damp, termite damage, broken tiles – so budget accordingly.
1. Respect the streetscape
Before altering any house, take a look at the streetscape and the houses around you. Your changes must be sympathetic to the original style of your home and to those of your neighbours. If not, they will look obvious, out of place and will lower the value of your home and those around you.
Some terrible mistakes were made in the 1960s and 1970s in the early renovating days before the restoration movement gathered speed. Out-of-character square boxes with flat roofs were added to Victorian and Edwardian houses, ornate fireplaces were blocked up and iron fences replaced by heavy brick styles. Now we know better and we plan (mostly) sympathetic additions. If you're not sure what is right for your house, call in an expert.
2. Check the heritage zoning
Take care if you're buying an inner urban area. To protect our heritage, many are designated conservation zones. This means you can't do anything to alter the external appearance of the house without getting a planning permit from your local council. In some areas this governs even changing the paint colours. If you feel such regulations would be too inhibiting, think before you buy. And certainly check with the local council before you sign any sale note.
3. Do you need a permit?
On the subject of permits, whether you're renovating an old house or a newer one, you need building approval from the local council before you make 'physical' changes to it. These include relatively minor things such as altering doors and windows or demolishing a front fence.
You can do repairs and maintenance if you use identical materials. But if you replace iron on a roof with tiles, for example, you would need building approval. There is logic in it, because tiles are heavier, so you would need to reinforce the roof structure.
4. Old houses need effort
Everybody loves the quaint character of a period house. That charming picket fence, the old world colours, the atmosphere and the link with the past attract many buyers with stars in their eyes. But there is no point in buying a rundown 100-year-old house unless you're prepared to renovate it properly.
You have an obligation to the house, it's your little bit of history, so leave it to someone else if you're not up the work, let alone the often considerable cost.
5. Period renovations cost more
Victorian and some Edwardian houses, for example, will cost more to renovate than modern places. If you're going to remain true to the period (and if you're not, you might as well buy a newer house), you'll want to reproduce the decoration. And more ornate skirtings, architraves, cornices, ceiling roses and even light fittings cost more than plainer ones. Painting, too, is a big job. The detail on some cornices and ceiling roses was originally picked out in as many as six colours.
Ideally, a slate roof should be retained or reproduced on a period-style extension. Or use it on areas of the roof visible from the front of the house. Each slate is individually nailed, so labour costs will certainly be higher then with, say, iron. If you do the painting yourself, you will keep costs down, but whatever renovation aspect you tackle, it's a job that requires dedication and a healthy bank balance.
6. Research your house history
Sometimes it helps to know a bit about a house's history before you make changes to it. There are various ways to delve into its past. You can start with the previous owners. If it has been in the same family for years, there should be someone who can fill you in. Failing that, you can talk to neighbours; look up council rate books, birth, death and marriage and certificates, subdivision posters and land titles.
If there's a local historical society, check out its records. And don't forget to read old newspapers laid under floor coverings – they can yield some fascinating snippets.
7. Authentic renovations hard to sell
A word of warning: be careful about authentic renovations as distinct from a sympathetic makeover. The experts say houses that have been authentically renovated are hard to sell. Some renovators who have stuck faithfully to colours and patterns of the time have lost as much as $100,000.
Twenty-first century house-hunters don't want to live like they did more than 100 years ago. There's a limited market for a property where the owners have scraped back years of paint and wallpaper to find and reproduce original colours and patterns. Buyers like a sniff of the past, but they don't necessarily want to live with authentic oxblood red walls and a turquoise dado.
8. Retain the original style
As with most old houses, you can reproduce the detail of the original in a new extension or you can graft something modern in a contrasting style. If you go for a hard-edged glass addition, it must be done sensitively and handled by an expert to complement the house. The preference is to retain the style and reproduce the line, windows, doors and door furniture so you can't tell where the old end sand the new begins.
If you go period-style, you must tread sensitively. Victorian houses didn't have informal living rooms, for example, and kitchens were often an afterthought detached from the main house, so you wouldn't want to re-create them. You can incorporate reproduction tiles, polished pine and brass fittings for an old-style look.
9. Use mouldings and skirtings
If you want to re-create the feel of the period, rather than reproducing every detail, you can do this with features such as mouldings and skirtings. Most importantly, keep the same ceiling heights and room proportions. Remember that raked and angled ceilings and angled walls cost more. Unless the house is Federation style, keep to an interesting box with lots of glass, high ceilings and interesting curtains.
10. Make sure to see the light
A lot of Victorian houses are dark, so introducing light should be a priority. Even if you opt for an old-style addition you can still incorporate big windows and have them facing the sun. Purists believe skylights are out of keeping with old houses, although you now get more sympathetic styles. They also believe that gentle light is more in keeping with the era. But most renovators like more light in their rooms than their Victorian forebears.
The best way to light a passage is with picture lights on the walls. This will give the impression of pushing them out. Mirrors on either side will also make a passage seem wider.
11. Maximise the natural light
Internal courtyards are a modern device, although many renovators build them into Victorian houses to help let in light. If the house has a light well, make good use of it. Open rooms to it by installing bigger windows and turn it into a green oasis by planting it attractively. If it's a narrow light well and it looks right, paint the walls a pale colour to reflect light into the rooms opposite.
12. Add French or bi-fold doors
In a terrace house, don't be frightened to make a dark room light by punching a hole in the wall big enough to take French or bi-fold doors. The impact will be dramatic, and if you can plant some greenery outside, so much the better.
Better yet, have the doors open up to a private courtyard (if off a bedroom) or onto a pergola-covered deck (if off a rear living room). But do check with the local council before you lift that sledge hammer.
13. Make the back bigger
Victorian houses generally have a long passage with rooms opening off it. Be careful not to continue the passage with an addition. Keep the front two or four rooms and the original entrance, but open the back with a burst of space.
Open planning doesn't mean the original design of the house has to be compromised. But breaking links with the past is recommended when it comes to the kitchen, bathroom and laundry. (Who wants a copper instead of an electric washing machine, or a primitive wood stove when they can have instant electricity or gas?) Go for a madly modern kitchen or modern with a Victorian mood. But whatever you do, do it well.
14. Remove walls for space
If you have two adjoining rooms that would benefit from being opened up, remove the wall between them. For maximum versatility install period-style panelled, folding or double doors. Openings either side of a fireplace are a deviation from the original, but if they're done well, that's fine. Some renovators round the tops and install corbels to match an existing arch in the hall. Besides, the space beside a fireplace is ideal to take a bookcase.
15. It's worth restoring fireplaces
On the subject of fireplaces, it's certainly worth restoring an old one with a cast iron surround. Metal is a radiant source of heat and even though the grate might be small, once the surround heats up and the fireplace will be surprisingly effective. If the mantelpiece is long gone, don't worry. There are many suppliers of period fittings selling original and reproduction surrounds.
If you can't afford a replacement, apply a coating of roughcast render around the opening and chimney breast and make it colonial-style. Get hold of a pair of fire dogs and a grate, and you'll have the perfect foil for stripped pine furniture. Once a few puffs of smoke have discoloured the chimney breast, you'll have even more atmosphere.
16. Edwardian décor is simpler
Decoration was simpler in Edwardian houses. Fancy cast-iron details were replaced by fretted timber work and wooden verandah posts replaced cast-iron ones. Ceilings and cornices were also less detailed and stained glass in fancy motifs, often with Art Nouveau influences, appeared in ordinary houses in a big way.
The rules for adding to an Edwardian house are similar to those for the Victorian era. Stay in style at the front and go modern or reproduce the period at the back.
17. Add colour with stained glass
Stained glass windows can be used to brighten a room. There are dozens of companies making them and most are so good, it's almost impossible to tell their reproductions from originals. If you have a particularly dingy room, enliven it by knocking a hole in the wall and installing a colourful new window. You'll be delighted with the life it adds, particularly when the sun shines through it.
18. Beautifying California bungalows
These spreading open houses (built from about 1920 to 1940) with their pitched tile roofs and deep verandahs are ideal for the Australian way of life. And those pitched roofs with their simple planes harbour plenty of space which can be converted into first-floor living.
In many cases, the attic space can be turned into a guest room, home office or family room without raising the roof. The big advantage of going into the roof is that you don't extend the site coverage if you have a small block, and you don't damage the profile or roof line of the building.
19. Build a bay window
Light was not such a problem with Californian bungalows as with earlier styles. Bay windows were a popular feature and they're ideal to include in a new extension. They're also a great way to enlarge and enliven an existing room. Old windows are sold at second-hand yards or a joiner will make one to suit or to match an original.
20. Freedom of the 1950s
Houses built after 1940 and into the 1950s make a less distinctive style statement, which also means they are more difficult to improve without major surgery. But you have more freedom in a sense, because you are not tied to a definite style. The important thing is not to try to make these houses something they're not. Don't introduce period features such as ceiling roses and Victorian-style fireplaces. They don't fit in.
21. North is always best
Take advantage of the orientation of the house. It's best if living areas face north, but don't despair if they face south. Rooms will be cooler in summer. And flowers in the garden will look better, so plant plenty of them. Experts say they look their best from a southern-facing window because the light comes from behind the observer.
22. Enjoy your garden views
Don't design a bathroom and laundry to sit in the middle of the back wall of the house, especially if it's the sunniest aspect. It's mad to have them taking up the best view of the gardens. If you've inherited this problem and you can't afford to move these rooms, check with the council about its regulations and if it's okay to install skylights and build a new living room behind or beside them to make the most of the aspect and the view of the garden.
23. Don't forget the garden
And while on the topic of gardens, as the experts say, landscaping to a house is like hair and make-up to a face. And if you don't believe it, consider two similar neighbouring houses, one with a beautiful garden and one without. The one with the good garden wins every time. What is more, it will fetch a better price when it is sold.
24. Finding the right materials
Restoring or renovating bathrooms can be a headache. When walls have to be broken into to upgrade plumbing or enlarge a window, the original tiles can get broken. You can replace them with reproduction tiles or there are specialist suppliers who deal in the most popular periods – Victorian, Federation, 1930s, 1940s and 1950s.
Searching salvage yards, second-hand places and antique shops for authentic architectural fittings and fixtures can be fun but sometimes fruitless. Luckily, there are many good-quality reproductions on the market, from pressed metal ceiling panels and old world sinks to period-style light fittings and door handles.
25. Have fun doing research
If you're looking for inspiration you should visit some lovingly restored homes and gardens. You can find properties through organisations such as the National Trust of Australia (www.nationaltrust.org.au) or the Historic Houses Trust (www.hht.net.au) in NSW which operates the Rose Seidler House (a 1950s architectural icon) and Elizabeth Bay House (built in the 1830s), among other properties.
You can also look at your state or regional tourism authority website for details of homes and gardens open to the public in your area.