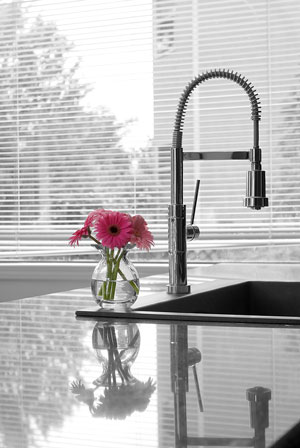 Say goodbye to clumsy kettles and expensive bottled water. When it comes to providing boiling water for beverages or cooking and chilled water for refreshing drinks, Zip HydroTap is the ultimate in convenience. It dispenses freshly filtered boiling and chilled drinking water instantly with an impressive flow rate that makes it extremely easy to fill cups, jugs, glasses or bottles, or saucepans for cooking.
Zip HydroTap pays for itself, saving you time, energy and money every day.
Stylish elegance for your kitchen
Zip HydroTap is an elegant addition to any kitchen. With its unique font it can be mounted on virtually any benchtop where plumbing is available, with flexible installation to meet interior design requirements. Better still, the boiling, chilling and filtration unit is installed out of sight under the benchtop or sink. This revolutionary invention has been awarded an Australian DesignMark — an award conferred on only the best examples of Australian design and innovation. The Australian Design Awards also nominated the Zip HydroTap as "a design discovery" for 2004.
Time-saving and so convenient
Zip HydroTap saves you so much time because there's no more waiting for water to boil. Push the red lever for instant filtered boiling water and the blue lever for freshly filtered chilled water. Pull up either lever until it locks "on" to fill pots, plungers and bottles safely and easily.
As an option, Zip HydroTap can be configured with oversized levers designed specifically for use by people with disabilities.
Pays for itself in no time
Zip HydroTap saves you money because it is up to three times more energy efficient than a traditional urn and at least as efficient as a well-managed kettle. And, because chilled filtered water is always available at the touch of a tap, you'll never again have to buy and store expensive bottled water.

Better tasting, healthy drinks
With Zip HydroTap, hot and cold drinks taste so much better because the water is freshly filtered. The inbuilt filtration system removes contaminants from the water supply that can affect the taste. And, with optional sub-micron filtration, it can also filter out asbestos fibres and cysts such as Giardia and Cryptosporidium. Not only is your drinking water cleaner, but it's also healthier. Zip filters have the added benefit of not removing fluoride from the water. To make sure your water is always pure and fresh, a filter replacement light indicates when the filter needs replacing. The replacement filtration cartridges are designed to make filter changing quick and hygienic. They are as easy to change as a light globe, and there's no need to turn off the water supply when changing the filter.
Designed with safety in mind
Zip HydroTap is so much safer than a kettle or urn. To prevent boiling water being dispensed inadvertently, a unique childproof safety lock that requires two-finger adult operation provides additional safety.  It is also equipped with another safety feature that lets you completely disable the dispensing of boiling water if required. In the unlikely event of leakage, the base of the under-bench unit forms a waterproof safe tray to contain any accidental leakage. A leak sensor turns the entire system off safely. Zip's nationwide service organisation, which is staffed by qualified Zip-trained engineers, is fully equipped to deal with your service needs promptly and expertly, whether it is filter exchange, servicing or repairs. Every Zip HydroTap comes with a 12-month warranty.
FOR MORE INFORMATION
Zip Heaters Australia Pty Limited
67 Allingham Street, Condell Park, NSW 2200
Phone 1800 638 633
Website: www.ziphydrotap.com