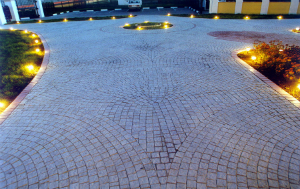 Premium-quality paving leaves cheap imitators in its wake

In 1993, UrbanStone created a new category of premium paving, with the brand's instant success inspiring what UrbanStone's General Manager, Mike Falconer, describes as "dozens of cheap copy manufacturers".
"Our designs have been the benchmark for the industry and that's why many of our competitors follow our lead and try to replicate what we're doing. However, our processes and styles have a quality the others have found impossible to replicate at UrbanStone's consistently high standard," said Mike.
"And when it comes to most of the Ultra Premium Collection, none of our competitors can begin to match our creations," he added. The latest Ultra-Premium paving sensations — Murano and Pompeii —achieve their modern originality by borrowing from the work of some of antiquity's greatest civilising peoples: the Romans and the Phoenicians.
Both Murano and Pompeii feature a remarkable worn and weathered surface texture that mirrors that of the centuries-old paving still to be found in Murano (a spectacularly beautiful island off Venice) and Pompeii.
As Michael Falconer explains, the manufacturing process compresses the effects of centuries of pedestrian traffic and tempest into a special three-stage process that wears away the softer parts of the paving and leaves the hardest components raised and beautifully polished.
The Murano is a subtle mix of neutral fawns and browns, and Pompeii features the blackness of an intensely dark European midnight sky. Both are available in 400mm x 400mm, 600mm x 400mm and 600mm x 600mm sizes.
For further information on the Ultra Premium Collection of UrbanStone Products, contact your local state UrbanStone office or visit the website.
UrbanStone Products
UrbanStone Offices:
Brisbane: (07) 3890 5062
Melbourne: (03) 9583 7377
Sydney: (02) 9890 9933
Perth: (08) 9417 2444
Adelaide: (08) 8332 2622
Website: www.urbanstone.com.au