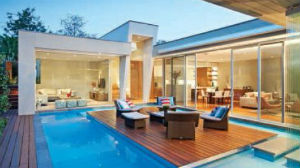 Create a resort-style outdoor room and feel like you are on holidays every day of the year
Words: Natalie Raad
Australians love the outdoors, so it's no surprise that the resort-style theme continues to be a popular design choice for outdoor rooms. No longer are we willing to wait for that holiday to enjoy the comforts of a resort. Rather, we are incorporating resort-style elements into our outdoor rooms and basking in the glory of resort-style living all year round.
The resort-style theme is well suited to the Australian lifestyle and climate. With our glorious weather, it's no wonder many of us would rather spend our days outside rather than in. And because we can't be on holiday every day of the year, we are taking an element, a taste of resort-style living, and introducing it into our own backyards.
Resort-style outdoor rooms are about function, comfort and relaxation. These spaces are an escape from the everyday, where luxury meets functionality and where our desires become a reality.
An outdoor room that embraces resort-style living will include features such as a pool, spa, sun decks, outdoor shower, cooking and dining facilities, an outdoor bar and entertainment in the form of a television or music. All the things typically associated with a resort are finding a home in our outdoor rooms.
Relaxation is an intrinsic part of resort-style living. As such, all the features of a resort-style outdoor room should exude relaxation and comfort. The key to designing a resort-style outdoor room is to make us feel like we are away while we are at home.
We can all experience the same concepts of a resort while being at home thanks to the availability of a broader range of furnishings. Previously there was only a select range of expensive furnishings available to those who wanted to create a space that spoke of luxury and indulgence. Today, however, there's a lot more variety when it comes to outdoor furniture and decorative accessories, much of it providing that all-important upmarket look at an affordable price. This affordability means you can create a resort-style ambience without spending too much money.
This broader range of furnishings has opened the door to resort-style living. With no real structure required, you just have to furnish your outdoor room in such a way so as to set the resort theme and style.
If you have a pool, why not include a few sun lounges so that you can bask in the sun after a swim? You could also integrate a spa into your pool so you extend the use of it well into the cooler months. Given spas are all about relaxation, they'll go hand-in-hand with your resort-style theme. An outdoor shower is another inclusion that will further enhance the resort theme.
A pool is virtually a must-have in a resort-style landscape and should be placed adjacent to your outdoor room so the two features work together, visually and for practical purposes. You don't need to have a large amount of space to work a pool into a landscape design. In most gardens there will at least be space for a plunge pool or a lap pool that, when integrated with your outdoor room, will give you the full holiday-at-home experience.
For an extra flourish, integrate a water feature into your pool. A sheer-descent waterfall, for example, incorporated into a decorative panel facing or rising up from the pool structure will add the sound of water in motion — something you find in the best resorts — and give guests seated in your outdoor room a focal point to gaze at. You might also like to consider integrating a wall water feature or a tabletop water feature into your outdoor room.
To enhance the resort experience, and really impress guests, why not include an outdoor bar so you can enjoy a cocktail while you laze by the pool? A swim-up bar that joins onto a pool with bar stools in the water is the ultimate resort feature, but this isn't the only way to go. You could designate one end of a deck as a bar area or one side of a cabana, with a counter for serving drinks and bar stools on the outside. For the full luxury experience, you'll need an under-counter bar fridge, sink and storage for glasses and other accessories.
Having cooking facilities outside will also help to set the resort theme. Whether it's a mobile barbecue or a fully equipped outdoor kitchen, the convenience of alfresco cooking and dining will further add to the feeling of being away at a holiday resort. If you plan to entertain a lot, go one step further and include a woodfired oven or a pizza oven.
Given relaxation is the ultimate aim of a resort-style outdoor room, be sure to include comfy lounges and chairs and to accessories with cushions. A designated entertaining area, with lounges, a television and all the hi-fi equipment needed to watch DVDs or listen to music is ideal, whether you intend to frequently entertain or you just want to spend quality time with family.
Resort-style outdoor rooms are appealing because all the items you require for entertaining or relaxing are always in place, ready to fulfil their purpose. This idea of having everything at your fingertips further reinforces the idea of a resort-style retreat, where all you have to do is sit back and enjoy.
A resort-style outdoor room is a place for outdoor living. It has been designed with function in mind. As such, scale and size is an important factor when designing an outdoor room.
Although the elements are important in setting the theme, it's the design of an outdoor room that is crucial when recreating the resort-style theme. In particular, scale is an important consideration. The principles of scale apply to all elements of the space and understanding the scale of your outdoor room and the elements within it will result in a balanced space.
It's important to avoid clutter. When you look out from the inside, your view should not be obstructed by large outdoor furnishings. You also need room to walk around your outdoor space.
Placement of items is also important. You can have the right elements but get the placement all wrong. A well-designed outdoor room is a combination of many elements, with the way it meets its purpose — its function — being the most important.
Function is equally as important when creating a resort-style outdoor room. If an outdoor room has been designed with functionality in mind, you will be able to move around the space and interact with it effortlessly, further enhancing the ease and comfort typically associated with the resort theme. It will also be well lit, with a mix of task and ambient lighting.
When creating a resort-style outdoor room, think about what it is that makes the concept of resort-style living so appealing. More than likely you'll discover that it's not just one element that brings the resort theme to life, but rather a combination of things that work together to make resort-style living a reality in your own outdoor room.