Dump your lawn for gravel and you'll not only save time, water and energy but, as landscape designer Fiona Brockhoff shows, you'll add style to your outdoor space.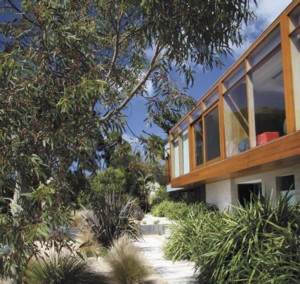 Fiona Brockhoff has a reputation for a uniquely Australian approach to landscaping. Designed in 1995, her own predominantly native coastal garden, "Karkalla", on the Mornington Peninsula in Victoria established a prototype for sustainable design, sympathetic to its seaside setting. Subsequent work continues the theme. Difficult and hostile sites form a common thread through her work yet, in Fiona's view, challenges of harsh environments often simplify her job. By using a restricted palette of proven plants, materials and design elements, she achieves simplicity and strength in design. Fiona's philosophy is to use and encourage more natives in gardens and she believes opening her own garden to showcase their potential inspires confidence in others. She spent a year between studies travelling and visiting gardens overseas. An opportunity to study with John Brookes at his renowned gravel garden in England inspired her. As she recalls, Brookes' advocacy of gravel made sense to her: no need to dig, mow or mulch and correctly chosen plants, performed brilliantly.
Gravel instead of lawn, particularly in coastal gardens, provides water-wise, low-maintenance and affordable surfaces. Fiona notes with amusement her "lawn rebellion" contrasts sharply to her father's obsession with it, recalling his devotion to their family "bowling green" backyard. Encouraging edible aspects in a garden is also a passion. Chooks, herbs, vegetables and orchards are enthusiastically incorporated into her designs without sacrificing style. Trained in permaculture, she actively promotes sustainable gardening. She also believes even designed gardens should be allowed to evolve naturally, claiming too much control stops a garden "making its own pictures".
Flinders Garden, Victoria:
The owners of this property were retired nursery owners who recognised that their earlier garden, with box hedging and camellias, was not appropriate for their new home by Melbourne architect John Wardle, nor for its coastal setting. The brief, then, was clear and concise. The garden was to be low maintenance, able to survive their trips away for travel and golf and provide ample space for their grandchildren to play. In addition, an area to the rear of the house was to be paved to provide outdoor eating opportunities. John Wardle had designed the house by placing the house to the rear of the half-acre block on the highest part of the site.
There were advantages in this beyond the benefit of views in that the greater part of the garden was retained as open space and the house was accommodated beneath a magnificent row of mature Monterey cypress (Cupressus macrocarpa), so often a sculptural icon of the Mornington Peninsula where they form effective windbreaks. The substantial house extends the greater part of the width of the site. A dramatic wall of glass at first-floor level permits views of the local golf course and the picturesque coastline. The house sat above the site so that it needed to have a platform established to give a sense of solidity and structure as well as a link between the house and the garden. Main living areas would always sit above the site but the bulk of the house needed to be anchored in the landscape by establishing terraces of an appropriate width. Access for cars was by way of a gate in Wardle's dramatic "piano" fence — the vertical timbers appear like piano keys — and this was set back behind an exceptionally wide nature strip.
Design response:
Central to the success of her design is the establishment of generous spaces: a broad sweeping driveway, an extensive informal lawn for grandchildren's play and two gravel terraces contained behind retaining walls built of vertical timbers. These augmented Fiona's belief that the garden required organic shapes that moved away from the squareness of the house and incorporated the land's natural contours. Fiona often uses old pier or shearing-shed timbers (smoothed over time and filled with lanolin) to create fences and retaining walls. Her aim was to create a landscape that was gentle and allowed the character of the house to be revealed without competing with it.
The development of a nature strip has not only given the house privacy from passing traffic but also blended and extended the property into its setting. Its clever design accommodates practical elements of footpath and visitor parking as well as seamlessly extending the garden. An area between the house and cypress row was paved, using a tombstone builder's granite offcuts, to accommodate a table and chairs. The use of gravel as the predominant paving material and mulch is entirely appropriate for the relaxed coastal setting, particularly as the Dromana topping (a locally sourced granitic sand) provides further tonal consistency with the house and nearby sandy beaches. The selection of plants was based on their ability to grow quickly, provide a habitat for local wildlife and create rich pictures through foliage colour, texture and form. Coastal rosemary (Westringia fruticosa) is clipped into mounds to contrast with the loose forms of white iron bark (Eucalyptus leucoxylon 'Rosea') and drooping she-oak (Allocasuarina verticillata).
Coastal banksia (Banksia integrifolia) offers a stiff, upright contrast. Other shrubs, including sticky daisy bush (Olearia glutinosa), contribute but it is the grasses dominating towards the road edge (deliberately lower growing for the sake of visibility) that steal the show. The nature strip palette dictates much of the internal planting. Selected introduced plants — for example, the purple flax (Phormium 'Anna Red') mass planted above the retaining wall, and low mounds of chalky sticks (Kleinia mandraliscae) — provide a delightful link between emergent planting and the Dromana gravel paving. The latter's bright blue foliage shines out against the duns and fawns of surrounding planting. Fiona's signature use of natives such as white correa (Correa alba) and sea box (Alyxia buxifolia) as clipped spheres adds a sculptural contrast to informal plant drifts. This is a garden without hard edges, so that planting subtly establishes boundaries to gravelled open areas. Massed Tasman flax lily (Dianella tasmanica) forms an apron to the base of the house, growing willingly in quite deep shade.
Extracted from Contemporary Australian Garden Design by John Patrick and Jenny Wade (ABC Books, 2008). RRP $69.95.