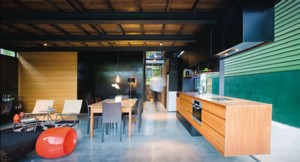 Whether it's building a new house or updating an existing dwelling, home owners become immersed in wide-ranging style decisions on everything from furnishing, lighting and art though to material and colour selection, how to integrate pattern and decoration, or which eco-friendly technology to install. Successfully achieving the home you want also includes thinking about landscaping, storage, kitchen and bathroom solutions. Enter the interior design specialist, skilled in honing the decision-making process and creating homes we can to enjoy for years to come. Leading designers and architects track the latest products and materials by devouring design and fashion-forward publications, globetrotting to key design fairs such as Maison & Objet in Paris, a leading object and accessory fair, Salone del Mobile in Milan, the king of design weeks, or scour Art Basel. They consume new directions with passion. But inspiration comes from other places, too — a new hotel, a gobsmacking retail outlet, a quirky bespoke hole in the wall, hand-woven rugs in Turkey, or an eco-resort in Byron Bay. Then there's the influence of individual and unique objects that may be found at Paris flea markets, LA antique dealers or locally at industrial furniture auctions. We spoke to three designers who, while stylistically diverse, all agree the key to a great interior is that the end result reflects the personality of its inhabitants and that the environment enhances the quality of their lifestyle. They also agree that a successful interior melds timeless design, quality fixtures and fittings, and ultimately a space the residents will embrace living in for many years to come. Their tips are simple. Design classics don't date, quality is a great investment, and find a style that reflects who you are and how you want to live.
Less is more
Architect Stephen Jolson adheres to a simple and timeless aesthetic, explaining that his interiors are "less about forecasting trends and more about creating spaces that stand the test of time".
In practice, Stephen uses a wide variety of materials but limits the palette within each project. "We believe that luxury is not about showmanship, but focused on the integrity and refinement of good materials. In flooring we have used wide-panel American oak boards that are treated then hand applied with Japan Black stain. The finished stain is wiped back with lamb's wool to reveal the natural tone of the timber. Similarly, floor-to-ceiling joinery (storage) is finished with black rift cut American oak, however the stain was left solid so that the joinery appeared to emerge from the depths of the floorboards. "We also use stone — an island bench in polished black granite reflects natural light, with an integrated stone sink.
Then contrast with china-white painted walls, a warm tone of white that has a beautiful sense of depth. Cushions and rugs accented in 'donkey browns' offset a monochromatic scheme, as do hand-loomed Nepalese rugs," says Stephen of a recent interior. "Containing and concealing technology is another device that minimises visual clutter. A plasma screen can be hidden within a wall; similarly, refrigeration and fireplaces can be built into the joinery, or bed heads can disguise walkin robes behind them," Stephen explains. Incorporating integrated wireless systems to centralise controls for lighting, audio, airconditioning, alarms and more, Stephen uses C-Bus from Urban Intelligence. "We particularly like the stealth speakers which ensure a cinemaquality sound experience with speakers that can be hidden behind the plasterboard," he says. On directions for the smallest people in the house, Stephen says, "Colour is integral to designing children's rooms; it encourages a sense of fun. We recently covered a plasma screen television with hundreds of Smurfs, and added a B&B Italia sofa in three shades of orange. Children's rooms should relate to the scale of their world and how they interact with it. Allow for colourful pinboards to accommodate artwork and aspects of their everyday school life." Stephen also emphasises the importance of a clear briefing from the outset of the project in all aspects — for example, to meet your storage requirements: "Abundant and clever storage comes from good planning. A through briefing process at the beginning of each project allows us to design spaces to accommodate the needs of each zone."
Carbonneutral living
Brisbane-based Brian Steendyk heads a multidisciplined design practice that has won accolades for architecture, as well as interior and product design. Awarded a Royal Australian Institute of Architects (RAIA) design prize, he also completed a three-month residency in Milan awarded by the Australia Council to further his furniture and product designs with leading Italian manufacturers. Currently Brian is realising an outdoor furniture range with Italian manufacturer Serralunga, his first pieces for the brand already launched at the celebrated Milan Salone de Mobile.
"We don't follow trends, we create them," Brian says. "There is a quest for authenticity that underpins our approach. Design has an extremely important role in society and one which is still undervalued, but starting to be more fully appreciated and understood." Brian favours products that improve the environment around us, believing that design is becoming more relevant now than ever before. "We design with the practice of sustainability as a paramount factor … our designs are adaptable to different users and needs. For example, our home and studio we've just completed is a showcase of sustainability. An 1875 worker's cottage was re-engineered to accommodate 21stcentury living requirements. The refurbishment aims to provide the historic nature of Spring Hill for future generations by invigorating the dwelling with contemporary ideas, yet maintaining the original integrity of the building." Concealed beneath the rear lawn is a 14,000- litre water tank, which feeds cisterns, laundry requirements, household and garden water needs. The electricity generated by the photovoltaic cells can be used directly in Brian's house, and excess electricity (electricity generated that cannot be stored) is sold back to the commercial grid. On average, the house generates more electricity than it consumes. The solar hot water system generally can store enough energy so that even on overcast days, the system doesn't need to use its backup mains electricity connection and it is switched off for most of the year.
The dwelling has natural cross-ventilation provided by manually modulated louvres which draw breezes upward from the central staircase to the attic and expel warm air during the warmer months. The overhang to the rear northern façade provides shelter from summer sun and also allows winter sun to penetrate deep into the building, warming the burnished concrete slab for passive heating in winter. "Many people think that climate change and sustainable practices have signalled the end of the luxury home. At the core of our approach to sustainable design is the idea that lifestyle, rather than being compromised, can be enhanced when engaging our global responsibility to the environment. Quality is more important than quantity," says Brian in conclusion. In his projects Brian specifies both products he designs and manufactures from his own company ANON & co, furniture, lighting and accessories from recognised design brands and is not afraid of mixing in products from IKEA.
Revy Bryce- Browning
Opening up the view brings life to existing apartments Brisbane interior designer.
Revy Bryce-Browning believes taking advantage of a view underpins the design process in many apartments. "A recent client brief stipulated: 'Relaxed living for the sophisticated bachelor'," Revy explains, "so we developed a bland palette with a lot of texture in fabric and material, interspersed with splashes of colour drawn from the sunset hues visible daily across the water. We worked to maximise exposure to the spectacular views. Removing the previous kitchen wall doubled the size of the living room, allowing a 180-degree view of the ocean around to the SouthPort Spit on the Gold Coast. The philosophy was to design the apartment as though it was one room." This meant that the master bedroom now opened directly onto the living room. "To avoid the client having to live with a closed bedroom door, a solution was to feature the rear wall of the bedroom in a way that encourages the owner to leave the door open.
Despite the use of pattern, it was still a masculine solution. Working with a limited range of tones, the two rooms actually read more as one." For the back wall, Revy specified a Dutch wallpaper, Netherlands, from Boyd Blue interior agency, using a Fleur de Lis motif. Revy collaborates with local designers and fabricators where possible. "For another project we worked closely with Paul Morris from Join on a custom-designed and -made bedroom suite. Using the client's artwork as a starting point, the bedroom's colour scheme was born. Chocolatebrown timber, featuring mirrored inlay, was teamed with a shot silk and crystal quilt made by Robin's Workroom." The result is elegant and dramatic. The owners of another apartment in the complex had an extensive collection of art, sculpture and glass, as well as a grand piano. These items were central to the design planning. The formal entertaining areas were also treated with themes of chocolate brown. Revy explains that the use of custom carpets and rugs can personalise space. "Another client had art and furniture in several styles, so we worked with Designer Rugs to create a spectacular rug with silk metallic thread as a shimmering detail to bring new life to the living space. They also had an extensive crystal collection and this drove the decision for an Art Deco-style dining suite. Norman Disney Young provided a lighting system specific for illuminating art."