The home elevator is fast becoming an integral part of the luxury home. Feast your eyes on these inspiring designs and discover why they've taken off.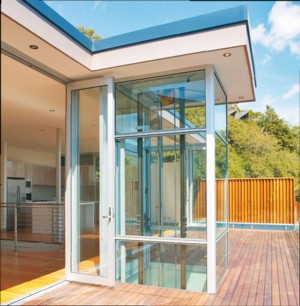 Affordable and practical:
No longer do we associate elevators as an exclusive feature solely for commercial use. They're a grand addition to any multi-level home and bring with them added convenience and a higher future sale price. "It's a stylish way to move between levels and offer an alternate mode of mobility through the home," says John Farrow, sales manager from Grant Elevators. It's a great investment in 'future-proofing' your home, too. "If you're investing your heart and money in building your dream home, you don't want to have to sell it in your twilight years because the stairs have become difficult to manoeuvre," explains Natalie Xylas from Liftronic.
Chic and stylish:
The home elevator can blend with your home's existing style or produce a central focus to liven up your dwelling's core. "There is great flexibility in the latest finishes, with innovative European styling that is ultra modern with sleek, clean lines that allow architects and designers to custom design the lift to blend in with the style of the home — from a stylish penthouse to a contemporary home," says Dijana Vojvodic from Easy Living Home Elevators. For those after a customised design, the options are inspiring. "Mirrors, glass walls, custom ceilings, decorative and coloured stainless steel, and manufactured stone floors are all great options available for those after a unique look," says Bernard Edwards from Lift Shop.
Maximising space and design:
Bernard says having a home elevator can maximise the design potential of your home, often capitalising on views. "By having a home elevator, multiple levels no longer pose a problem. It also increases creativity for architects and designers by maximising the use of any building site, rather than being constrained by concerns of having too many levels," he says. "Dual automatic doors, smaller shaft sizes and an increase in custom design are all design and technological advances we're seeing at the moment," says John Farrow from Grant Elevators.
The next step:
The addition of a home elevator boasts myriad benefits for the luxury space. "They've revolutionised the way people move about and utilise their homes," says Bernard. "Purpose-designed-and-built lifts have become an affordable luxury for the home, which means owners are now spoilt with endless choices available." It's not uncommon to find leading architects, builders and interior designers including them as features in new and renovated homes, as their convenience and increased saleability for the home are too good to refuse.
Design flair:
The home lift is a significant investment and should reflect your home's style. With a wide array of options and designs available, the possibilities are endless! "The look and feel of your elevator is very much about personal choice. Most customers like to customise it to complement their décor or interior palettes, whereas others opt for bold contrast to create a true standout feature," says Bernard. The design of your lift should be considered in the early stages of planning. Initial considerations include the type of lift and shaft materials that will be used, usually masonry or glass, although finishes can be changed right up until the lift is placed into manufacture. It's important to remember that a lift purchase is a long process.
The lift is usually one of the first things to be bought, however, it's usually one of the last things installed in a home. Each lift is custom manufactured and imported from overseas, with a common lead time of four to six months. Each lift is different in terms of the manufacture factors. These include the width, depth, travel, pit, headroom, cabin and other features of the lift. An order will be placed early, to lock in price and dimensions, but it's not until final confirmation is received on the variable details that manufacture commences. "This is typically the time when your consultant will work with your architects, builders and designers to come up with the best possible solution for the project," explains Bernard.
On site:
Whether it's part of a newly-built home or an extensive renovation, the elevator's installation will occur at the end of the construction process. "It's important to ensure this timeline as the dust and dirt found in a construction environment will not be beneficial to the running of the lift," he advises.
According to Bernard's experience, a two-level lift can be installed within one to two weeks, subject to other building issues being satisfactory. The team at Lift Shop deliver the elevator in components, which ensures the process is easy and doesn't require the use of expensive cranes. "It also means the project can be completed to 'lock-up' stage, with no need for leaving the roof unfinished," adds Bernard.
Trend watch:
Going Green: New single-phase power supply systems have resulted in minimal energy usage, and lower running costs. These innovative options make home elevators a sustainable option for the eco-friendly buyer.
LED lighting: Automatic LED lighting offers significant power savings as interior lighting remains off when the lift is not in use. "With the increase in electricity costs, our clients are now becoming savvier than ever," says Natalie.
Space saving: Low pit depths and minimal footprint dimensions have resulted in less invasive building procedures. These options minimise the need for excavation and machine rooms, and reduce installation timeframes.
Electric traction: The move away from older-style hydraulic lifts is being embraced by architects, builders and homeowners. "They appreciate the energy efficiencies offered and the cleaner feel of a lift that doesn't rely on potentially smelly hydraulic oils," says Bernard. As such, discerning home elevator buyers are following the trend to work with the larger lift companies, which offer electric traction lifts (making the most of counterweight advantages).
Home automation systems: It is now more common during the building stage for people to invest in state-of-the-art full-automation systems that control everything, from sound and entertainment to security. "The residential elevator has become an extension of this, another means of future-proofing the home for the technology of tomorrow," says Dijana.