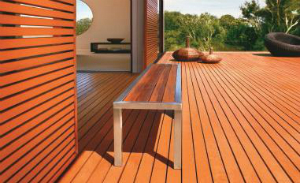 All you need to know to preserve outdoor timber decking, furniture and fences
Gardens are constantly changing. Plants improve over time by growing, filling out and flowering, but timber garden features such as decking, outdoor furniture and fences will dry out, fade and gradually break down under the force of the elements.
In order to get the longest life from exterior timber it's vital to treat it with a quality coating that nourishes and protects. When it comes to high-performance timber oils and stains, Intergrain is at the top of the list with a range of timber finishes developed for Australian conditions.
Intergrain is scientifically developed to deliver long-lasting coatings that preserve the natural look of timber. In addition, most of the Intergrain range is water-based, which makes it better for the environment than traditional solvent-based stains and oils.
If you have timber outside, Intergrain has a product that will make it look good and keep it looking good. Here's a review of three of the company's products and when to use them.
The ultimate in durability, Intergrain UltraDeck is a unique protective coating that both penetrates timber and forms a protective barrier on top. UltraDeck will last up to three times as long as conventional decking oils, as the protective layer adds resistance against the damaging effects of weather and traffic wear.
Use UltraDeck on decking and all exterior timber where you want to bring out the existing colour of the timber and add a low-sheen finish.
Intergrain Nature's Timber Oil is a blend of natural oils that penetrate deeply to nourish and protect timber. Choose Nature's Timber Oil if you want your timber to have a subtle, natural matt finish, showcasing the grain and timber features. Nature's Timber Oil looks natural because it is natural: 98 per cent of the ingredients are derived from renewable resources
When you want to add colour to timber, Intergrain NaturalStain is the safe choice. There are 14 colours available, all giving a realistic timber hue that highlights the timber grain. NaturalStain is extra durable and doesn't need a protective top coat — it's so hardy that it can even be used on decking.
Use NaturalStain to bring colour into your landscape design. It's perfect for disguising treated pine as another timber species or bringing faded timber back to life.
Even though Intergrain products will last longer and require far less maintenance than most of the other products available, it's important to regularly inspect the timber for signs of weathering. Happily, Intergrain UltraDeck, Nature's Timber Oil and NaturalStain will age evenly without splitting, cracking or peeling and a refresh coat can be applied without having to sand the surface.
For stockist information, product enquires and technical advice, call the freecall number or visit the website