At an early age, Wayne van Kesteren visualised owning his own construction business. Fast forward to today and this dream is now a fullblown reality.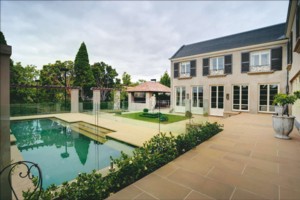 Wayne got his first taste of the industry as an apprentice carpenter at the tender age of 15, when he quickly realised his love of the building game and aspired to work on top-end projects. Following in his family's footsteps, he was introduced to the ever-changing world of building design by his uncle, a successful builder.
"I've never been in a hurry to get to this point in my career; instead I wanted to learn as much as I could from as many people as I could," says Wayne. Working with high-end builders helped him realise the height he wanted to reach in his own career. He began Mitchcourt Constructions thereafter, focusing on renovating and building new homes. An all-round family business, the name Mitchcourt was a collaboration of the name of Wayne and his wife Lisa's two children, Mitchell and Courtney. "Building a home is one of the biggest things many will do in their life," he adds, "and it should be enjoyable from beginning to end." This is where a good team makes all the difference. Mitchcourt Constructions' main aim is to build high-quality homes while working closely with architects and clients to get the most out of the home's design and function. A member of HIA and MBA, Mitchcourt makes it a priority to stay in touch with the latest developments and news from the industry. "As there are products coming out daily, we try to stay on top of this in order to give our clients the best," says Wayne. One of the biggest changes to the industry is the revolutionary methods and attitudes clients, architects and builders have adapted in a quest to go green. Exploring multiple ways to gain the most from a house is a growing challenge. The increasing number of water tanks being installed in homes, as well as the use of grey water and implementation of watersaving devices such as tap fittings are just some examples, Wayne explains. One focus on the rise is the need for new homes to use energy-efficient glazing. This need to use less power in the home, Wayne anticipates, will further be explored in the future through new techniques and concepts. "New homes will require more solar and higher thermal qualities," he says, "forcing the industry into a new (and better) direction."
For more information, contact Mitchcourt Constructions on 03 9755 5886.