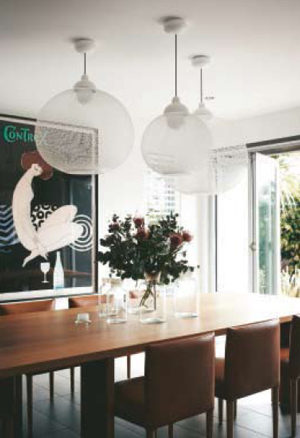 Christopher Elliott designs with an enduring passion for quality materials and harmony in space, enjoying immense satisfaction with each new project
By Jordana Reid
Beginning his design career at Hermon & Hermon in 1999, Christopher Elliott's designs have grown from homewares and furniture into renowned interior projects. He started at Hermon & Hermon in a sales role but it wasn't long before he embraced the opportunity to develop his design skills. "As the demand for custom furniture increased, I started designing some furniture pieces that soon took off and many are still very popular today," recalls Christopher. After six rewarding years with Hermon & Hermon, Elliott launched his own company, Christopher Elliott Designs, in 2005 and hasn't looked back.
He believes the essence of good design lies in the challenge of problem solving. He understands there's a desired aesthetic outcome to achieve all while you face limitations such as the architecture, budget, time frame and client's perspective. "Combining these elements can be difficult, but when it's cohesive and the process is a smooth evolution, you know you have a good design," he reflects.
With practicality in mind, Christopher says that achieving balance between client input and the objective design viewpoint is essential. "You need to be able to see things from the client's perspective, but not let that limit your designs. I make a point of spending valuable time getting to know my clients, their individual lifestyle, their home and their family," he says. He's often presented with great ideas from his clients that need to be refined or edited. "Trust is essential in the process in order to create the most rewarding outcome," he says. "At times it can mean proposing something they dislike. It's happened before, and in my instance it ended up being the client's favourite part of the design."
According to Christopher, the relationship between space and design is important in creating a harmonious result. "I believe spaces give off an energetic vibration that resonates with us on an emotional level, and I try to tap into this," he says. Drawing inspiration from all angles, Christopher says for him, the design process is fluid and organic. "My mind seems to work subconsciously and before I know it I have resolved the design," he says. Being given the opportunity to transform spaces and see clients' lives uplifted by the process is incredibly rewarding to him.
Christopher Elliott describes his design as clean, distinctive and contemporary. The self-confessed "stickler for quality" says the selection of the best possible materials is the key to his style. With a passion for refined, natural materials, some of his current favourites are grey smoked wood tones, metallic grass cloth wallpaper, platinum-coloured antiqued velvet, black polished nickel and natural stones. "I love layering subtle textures to create a harmonious mix. I am enjoying working with a palette of warm greys and black accented by a cerulean blue and oxide," he notes. Some of Elliott's most popular furniture designs to date include a solid oak dining table, an upholstered bed and bedside table, a series of lamp/side tables and ottomans.
With the flood of replica pieces on the market, Christopher says upcoming furniture design will focus on being unique and simple. "People are seeking designs that are different; designs are bolder, more artistic — it's almost like furniture is being seen as art," he claims. It's an exciting future and Christopher Elliott will no doubt be a constant presence in it.
For more information visit www.christopherelliottdesign.com.au.