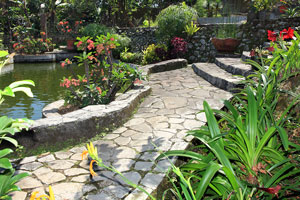 If you want year-round colour in the garden, be bold and use foliage plants
Story: Emily Coakes, MAILDM
Now that autumn has eased into winter, perhaps it's a good time to consider an alternative to relying on seasonal change to add interest to your garden. Instead, why not look to the latest trend in designing with plants? Brilliantly hued foliage plants are a great way to create a garden with variety and consistent colour that will be a delight all year round. Once underestimated and considered a less impressive counterpart to the showier flowering plant, the foliage plant is now taking centrestage. 
As a consequence, nurseries are being hit with an ever-growing number of more vibrantly coloured and highly resilient structural and leafy strap-form plants. Requiring minimal moisture and relatively little maintenance, these bold, easy-care varieties are quickly dominating the plant selections of the 'time poor' and the adventurous.
So how do you introduce these miraculous feature plants into your existing landscape no matter what the garden style or its size?
The key is to identify the dominant tones used in the exterior of your home and your interior décor. You can then select foliage plants that will complement and intensify these colour schemes — or stand in bold contrast to them. It depends on the ambience you want to create.
If you've gone for a streamlined, modern approach to the design of your home and used stark-white teamed with grey or dusky-blue, plants like the dragon's blood tree (Dracaena draco), with its soft grey, strap-like leaf structure, will enhance it. These feature plants will grow slowly and mature into a multi-branching wonder, eventually reaching up to four metres tall. Underplant these with a mass of flapjacks (Kalanchoe thyrsiflora 'Flapjacks'), whose blushing red leaf tips will offset the grey of the Dracaena. The contrast of the draping, strappy leaf form of the Dracaena set amid the rotund and rigid leaf form of the Kalanchoe, will draw admiring glances.
If your home has earthy, sandy tones and crisp, cool blues and greens, you'll find the burgundy richness of the Cordyline australis a magnificent addition to any existing planting scheme. Also available in plum reds, greens and more recently myriad pinks, these sculptural plants are a feature in their own right. Combined with low-growing hedges and grasses in lush, green tones, cordylines can be used as a highlight in previously dull garden areas and draw the eye to where you want it to go, such as a corner.
Never before have we seen quite such a majestic statement as the glorious Furcraea foetida 'Variegated Mauritius Hemp'. This recent addition to the Australian gardening scene is dazzling us all with its bold stripes of cream and lime green. Demanding appreciation from all who see it, its symmetry and resilience can be used to make a bold statement on its own. Another other option is to offset the plant with decorative gravel or, perhaps, complement it with a mass under-planting of Echeveria glauca. The Eccheveria, with its contrasting round repetitive leaf form, will have the artist within you crying out for more.
For coastal and cottage gardens seeking a softer approach, take a closer look at the new species of Pennisetum 'Burgundy' grass that's available in nurseries now. Unmatched with its rich and consistent colour, these soft, feather-tipped grasses are simply delightful. As their bushy foliage blows in the breeze, one is reminded of long summer days and sand between the toes. In full maturity, the larger form of these dune-style plants can reach two metres; the dwarf form will reach a mere 50cm tall. Their feathery form is also being increasingly used in contemporary garden designs to soften clean, hard edges.
Take a step outside your comfort zone and explore the vast and ever changing world of foliage colour. With a full spectrum available to suit any colour scheme, you will be amazed at the visual effects that can be created so easily by simply incorporating variation and contrast.