Buoyed through the downturn by a flood of first-home buyers, record-low interest rates and a tight rental market, the Melbourne property market is heating up. The time is now ripe for investors to take the plunge before the competition gets too fierce.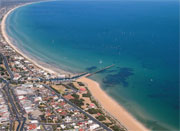 First-home buyers and investors have been the two biggest competitive forces in Melbourne's housing market this year, with rising rents and low interest rates creating perfect conditions for both groups. For investors, these conditions also mean their new rental properties will be profitable from the start, without the need for negative gearing. 
Lead partner of KPMG's property advisory services Bernard Salt believes that August through to October will present good opportunities for buyers "as reluctant sellers are forced to crystallise their losses". 
"The downturn has gathered momentum steadily throughout the year and is now starting to fester and ferment, tipping reluctant sellers into the 'must sell at any cost' category," he says. "As unfortunate as this sounds, another person's tragic circumstances is, in reality, an opportunity for someone else. 
"If you are cashed up, in a secure job and confident about Melbourne's long-term position and value (as indeed you should be because it is a fundamentally very sound city with a great lifestyle) the third quarter of this year is the time to buy." 
Advantage Property Consulting buyer advocate Frank Valentic agrees that the prospect for positive gearing investment combined with price increases in the lower end of the market should trigger strong investor demand. 
"There's a lot of strength out there at the moment due to a number of factors: one of the main ones being the low stock levels. I don't see that changing too much in the third quarter. I think there are a lot of people who cashed in during the boom of 2007 and I think there are a lot of other people who are happy to just hold and not put their properties on the market. So if supply stays low, there's definitely enough demand to keep that investment market going. 
"I think the top end of the market will fall further and experience some challenges with the share market volatility and margin calls and executives losing their jobs and their bonuses. But the lower end of the market is as strong as it's been for a long time." 
A Tale of Two Cities:
Further evidence of the dominance of the lower end of the property market has come from data released by the Real Estate Institute of Victoria (REIV). It shows that the overall median house price for metropolitan Melbourne rose 3.1 per cent in 2008 from $420,000 in 2007 to $433,000. The 3.1 per cent rise compares to an 11.3 per cent rise the year before, demonstrating the general slowdown in the market.
However, hidden within the overall figure for 2008 was a 7.6 per cent rise in the median price in the affordable segment of the market compared to a 0.3 per cent rise for the top end. First-home buyer havens Sunbury, Broadmeadows and St Albans all recorded positive house value growth during last year's tumultuous tail-end.
Top-end properties in Melbourne's inner south and inner eastern suburbs took the hardest hits and some homeowners in the state's richest postcodes watched their properties' values plummet by almost 30 per cent in the last December quarter. 
The REIV's annual median prices for 2008 showed that Toorak remained Melbourne's most expensive suburb with a median price of $2.6 million despite a 7.3 per cent reduction, followed by Brighton with a drop of 4.2 per cent to $1.6 million and Canterbury down by 10.9 per cent. During 2007, the medians in these suburbs increased by between 30 and 35 per cent. 
Price growth in the unit and apartment market was similar to the figure for houses with an increase of 4.2 per cent from $355,000 to $370,000. According to REIV CEO Enzo Raimondo, strong growth was recorded in non-traditional areas for units and apartments including Maribyrnong, Sunshine, St Albans and Pascoe Vale along with the expected South Melbourne. 
As the economic malaise deepens through 2009, Frank Valentic believes fantastic opportunities will arise for homeowners to take advantage of the cooler conditions and build wealth by upgrading. 
"The middle end, say $700,000 up to $1.2 to $1.5 million, has started to move again," he says. "Now is a good time to upsize because that middle end has definitely come off and the top end has come off. Homes you would have paid maybe $1 to $1.1 million a year ago are now going for about $900,000, so I think that will present some opportunities. However, it will also present some challenges for people who are selling those types of properties." 
Bernard Salt agrees that for those with "prestige property aspirations" winter will be the time to strike. "It comes back to the point of another person's unfortunate circumstances being, in a capitalist society, your opportunity," he says. "If you want to upgrade to the very best that Melbourne has to offer, you will do no better."
Sea-Change Opportunities:
Bernard also sees pockets of opportunity opening up for bargain hunters in prime coastal locations along the Bellarine and Mornington Peninsulas as people divest themselves of holiday houses. "The first thing that goes in volatile times is the holiday house, so premium sea-change locations must take a hit as a consequence. The other way to look at that is that it presents a great opportunity and mid-winter in the year of a global financial crisis is probably the best time to buy into Portsea or Lorne. The opportunity won't present itself at these levels possibly for another generation."
Bernard believes the classic locations within the commutable belt, and even the Bass Coast around Phillip Island right through to Inverloch, will offer the best long-term investments. "Australians have demonstrated a preference for lifestyle for 100 years," he says. "In the 1890s it was lifestyle in the 'burbs facilitated by railway. From the 1960s onwards, it's been facilitated by the motor car. Give an Australian half a chance and they'll take the lifestyle option every time — and that's predominantly along the coast."
Best out West: 
Bernard Salt opts for Footscray as his pick of the inner-west. "I think Footscray is undervalued. In fact, there are some very fashionable eateries opening up there and there's a redevelopment down on the Maribyrnong River. Yarraville has been done over, Williamstown has been done over but there's any number of older inner-western suburbs that have not really been fully explored. 
"These are places that are on the edge of the inner-western core that have perhaps been overlooked in the past but still have housing stock in streets with some 19th century integrity, proximity to the city, a diverse ethnic environment and places that have been undervalued simply because of the inner-west tag, which now must be re-evaluated given the proximity to the city and the redevelopment opportunities that are taking place in the west." 
Frank Valentic says his golden rule is: always buy near lifestyle, transport and amenities. "I'd probably pick Footscray and Seddon as my preferred suburbs in the inner west because I think they've got the lifestyle elements and good transport and good infrastructure to create that sort of demand for professionals moving into that area."
Hot Tips for the North: 
On the other side of town, Frank thinks Northcote, Thornbury and Preston are still very good value for money. "Those areas are still first-home buyer hot spots, so I think they will perform well. If I'm looking at where there's likely to be strong growth over the next 12 months, it would definitely be towards the lower end where there's first-home buyers' territory and that would be houses and apartments in the inner north and inner west," he says.
Bernard is more in favour of East Brunswick. 
"East Brunswick has lots of integrity, proximity to the city and Carlton Gardens, and access to the vital and vibrant Sydney Road. A much under-valued area."
Bayside Tips and Hotspots in the South:
Describing it as "the daggy duckling that has glamorised", Bernard likes the bayside suburb of Mordialloc. "If you drive through Mordialloc, it has the market umbrellas and the street chic set having cafe lattes. It's a place that was always ripe for redevelopment — it's on the beach, it's got a river, it's been undervalued for decades and it's on the edge of cool, and the edge of cool means Elwood, St Kilda, Brighton and Beaumaris. Unfortunately, it has not reached Seaford or Chelsea as yet." 
Frank prefers Bentleigh and Bentleigh East. "Bentleigh has a lot upsides and Bentleigh East because it's still bayside and more affordable. Hampton East is still an untouched area and would be one of the suburbs that I'd pick with its proximity to the CBD. If you can stay in as close as possible, the land value is always higher and the growth potential is always there in the long term."
Best of the East:
Frank recommends staying in as close as affordability allows. "I'd be targeting Richmond, Abbotsford and East Hawthorn. It's becoming very competitive to get into those areas. The eastern suburbs are obviously quite expensive, so the most affordable areas would be Collingwood and Abbotsford, which I think are very good value for money. Hawthorn East is a bit more affordable than central Hawthorn." 
Best Inner Suburbs for Units and Apartments:
Elwood and St Kilda have tripled in growth in the past 10 years and are still affordable compared to Sydney in terms of proximity to the CBD and the beach, according to Frank. "They've got strong demand from first-home buyers and investors and a good investment is a property that first-home buyers will be attracted to. Entry level to get into the bayside suburbs will be apartments for a lot of people. East St Kilda also has a lot of potential or the upside being that it's just the other side of the highway. You're still very close to lifestyle and transport and coffee strips such as Carlisle Street that are becoming very trendy."