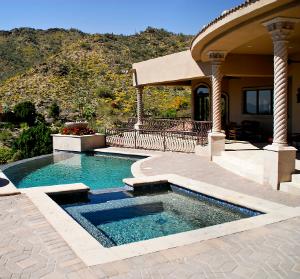 A 1980s Sydney garden makes the journey from dull and dated to fresh and modern
Story: Diane Norris
This award winning garden in the leafy Sydney suburb of Mosman is a testament to what can be achieved when inspired design combines with excellent construction values.
The original garden was built in the early 1980s so the owners felt that the time had come for a major change. They turned to landscape architect John Storch from A Total Concept for the design and Nick McCarthy of Urban Escape to give physical form to John's vision.
Nick says the client's brief was very clear. At the rear they wanted an area of lawn where the children and dog could play. They also wanted all existing paved areas revamped and the entertaining spaces revitalised. At the front, a new driveway was on the agenda as was improved security.
Adds Nick: "The landscape the owners wanted was to have clean lines, geometric shapes and a fresh, functional and contemporary feel."
The focal point of the backyard is the renovated pool. Not only was it reshaped, extra pool steps were added and the interior surface was clad in cobalt blue glass mosaic tiles. A large hardwood timber deck with barbecue and frameless glass fencing was also constructed, providing an alfresco outdoor space which surveys the entire pool area.
Other work carried out in the rear garden included the construction of rendered retaining walls and planter boxes, which were designed to match the exterior of the residence.
Travertine tiles, which are highly durable and contribute the much sought-after look of natural stone, have been laid to all exterior areas, except for the driveway where hard-wearing granite was used.
For security and ambience, there is extensive exterior lighting in both front and rear gardens, along with a video-intercom and security system. Finishing touches, in the form of wrought iron balcony balustrades, front fencing and gates contribute both security and beauty.
With most landscape projects, challenges are never too far away and the main one here — given the confined space and slope of the land — was site access. To minimise waste disposal, all building waste was recycled. For example, old reconstituted pavers were broken up and used as fill in the timber crib-walling. This walling is approximately 2.2m high and was used to level off the rear garden behind the pool. A mini-excavator was used onsite but to gain access to the rear garden, it had to first be driven down approximately 40 steps in a very obliging neighbour's property.
The hedging and garden beds have been thoughtfully set-out. For screening there are lilly pillies (Syzygium sp.); for hedging Japanese box (Buxus japonica). For a splash of colour, mass planted begonias and cordylines; for their spring-time floral fragrance, gardenias and wondering Chinese star jasmine (Trachelspermum jasminoides).
To keep the garden lush and healthy, a water-wise fully automatic drip irrigation system was installed to all lawn and garden areas.
Urban Escapes' motto is "break free — lose yourself in your garden", a sentiment that seems to capture the essence, and success, of this award-winning garden.
* Urban Escape won the Landscape Construction of the Year — Residential award for this garden in the 2007 Landscape Contractors' Association of NSW Awards of Excellence. They also won the Residential Over $300,000 category.