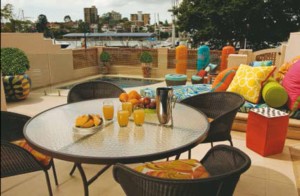 This two-storey townhouse exudes vibrancy, entertainment and the idea of comfort living all in one location. It's nestled alongside the Brisbane River and soaks up the picturesque views with its playful interior and luxurious outdoor space.
This home is one of the client's numerous properties around Australia that John Croft of Brisbane-based John Croft Design has brought to life. This time, however, it was not only to create the feel of a day-to-day living space, it was also to promote a sense of amusement and to transform the residence into an entertainer's hub with ease. True to his style, multi award-winning interior designer John Croft started work on producing this idea with colour. As one of Australia's leading interior designers, John and his assistant on this project, Lloyd Hodgkinson, embraced the brief and ran with it.
Their mission was to marry two different atmospheres and their solution came in the form of lighting. Colour was the key to transformation and John Croft envisioned a lighting scheme that would suit this home's needs. The system was strategically designed to create a nightclub feel with purple light changes that imbued a sense of evening fun without the closed-in and dark feel associated with these night spots. The rich shade creates a hard edge without being too gaudy. It's controlled through a computerised system that can be set in any colour sequence and, when the evening fun is over, you can simply set it back to softer, brighter colours for a more natural appeal.
The interior of the home includes neutral walls with bursts of vibrant touches dotted throughout. It creates a clean and care-free base for the rest of the home to work around and allows for fun and exuberance in other forms. The custom-made rug in the lounge room adds zing to the living space, while the bedrooms are a haven for lush tones and exciting colours. Features like the polka-dot wall and black-and-white-stripe details not only look great with the unique coloured lighting, but also add character and excitement to the space when it's not in entertainment mode. At the centre of the home you'll find the black-and-white-striped atrium. It's a dramatic feature that floods the home with natural light and also energises the hot spot with coloured lights that stream up and down its body with the flick of a switch. It's the heart of the home and has been maximised to create visual drama while connecting the dwelling's zones. John admits to being lucky with this project. "We were fortunate to work with clients who want really interesting touches to their space," he says, and this home was no exception.
The owners are photography, wine and music enthusiasts, which John highlighted with inclusions such as the display of musical instruments and framed photographs. It's the finer details and personal touches like these that make the structure a true home. Step outside and you're met with an exciting outdoor haven — it's a space that comes to life with a fresh and juicy colour palette. What was once a garden bed is now a lounge bed, transformed to suit a lazy day in the sun for guests. Handmade and specially designed planters by John complement the space, along with mosaic tiles in myriad hues that cascade over the pool's surface. It's a bright and breezy sanctuary that oozes relaxed fun. The project was a success and the yin and yang elements of these two atmospheres come together. "It does everything we want it to do with the flick of a switch," says John, adding "it was a challenging brief but we made it work."
John Croft Design 63 Amelia Street, Fortitude Valley, Brisbane Qld 4006 | Tel 07 3257 0633 | Fax 07 3252 3433 |
Email jcd@johncroftdesign.com.au | Website www.johncroftdesign.com.au | Photography Clive Buxton