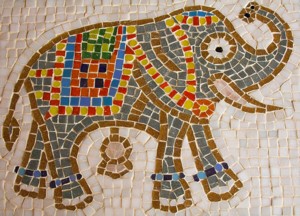 If you want to dress up a wall or a water feature, why not try a mosaic?
A mosaic is a wonderful way to give a garden a visual lift. On a wall or tabletop, integrated into a step or pathway, a mosaic can be used to add colour, pattern or texture.
Mosaics can be made out of all kinds of materials — pebbles, pieces of vitreous glass, tiles, stone, bits of crockery or mirror — basically anything that can be stuck onto or embedded into another surface. And if you're feeling very creative, you can work in shells, beads and fragments of things like metal and wood. 
There are plenty of how-to mosaic books around and you'll probably find that there is a mosaic workshop being run somewhere in your area. With the basics under your belt you could try transforming a flower pot or garden urn, creating a colourful backdrop for a water feature or a splashback for an outdoor kitchen, or making tiles you can inset into an area of paving.
If you don't fancy trying it for yourself but you love the look, there are artists the length and breadth of Australia producing stunning mosaic pieces specifically designed to be appreciated in the great outdoors. Here are just some of them.