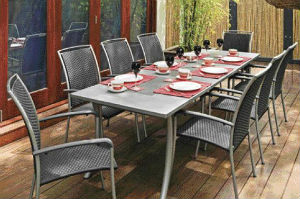 Quality outdoor furniture adds a touch of elegance to an outdoor room
Contemporary home and garden design is all about creating a seamless blend of interior and exterior rooms. One of the simplest ways to ensure a cohesive look between indoor and outdoor living spaces is to use outdoor furniture that matches or complements your interior furnishings.
This is incredibly easy to do these days. As the number of sophisticated alfresco entertaining areas, well-appointed outdoor rooms and indoor-outdoor living spaces has increased, so too has the range of quality outdoor furniture. Today, we have a diverse array of furniture and accessories to choose between, thanks to companies the calibre of Outdoor Megastore.
Outdoor Megastore offers an extensive selection of quality outdoor furniture, including the Royal Gardens range. This range is produced by the Kettler Group of Companies, Germany's largest manufacturer of leisure products. This unique range of elegant iron and plastic-weave furniture, which includes coffee tables and folding chairs (with or without arms), is made for outdoor living and combines elegance with strength and longevity.
Guaranteed for five years against rust, each piece in the Royal Gardens range boasts a unique Thermosint® coating. This thick coating, the result of a hot galvanising process, produces a soft cool surface. The Royal Gardens collection also includes a range of aluminium and teak settings as well as settings made from stainless steel and teak, all sold extensively throughout Europe and America.
In addition, Outdoor Megastore stocks the Sedex range of outdoor furniture, fashioned using a high-quality synthetic wicker (Hularo®™) placed over a sturdy aluminium frame. The range is vast, offering everything you need to furnish an outdoor room: dining tables and chairs, side tables, coffee tables, daybeds, sunloungers and more.
The Sedex range also gives homeowners a broad palette of colours, fabrics and weave patterns to choose between, providing all the tools you need to create a look that is contemporary and well co-ordinated. And you need not worry about durability as the Hularo®™ weave is guaranteed for three years.
For more information
Outdoor Megastore (Main showroom) 181 Burwood Road, Hawthorn Vic 3122 Phone (03) 9708 6422 Email outdoormega@optusnet.com.au
Website www.outdoorfurnitureaustralia.com Photography by Patrick Redmond