Future-proof your home! Here are 4 things you should consider to ensure your home can keep up with the varying demands of a growing family.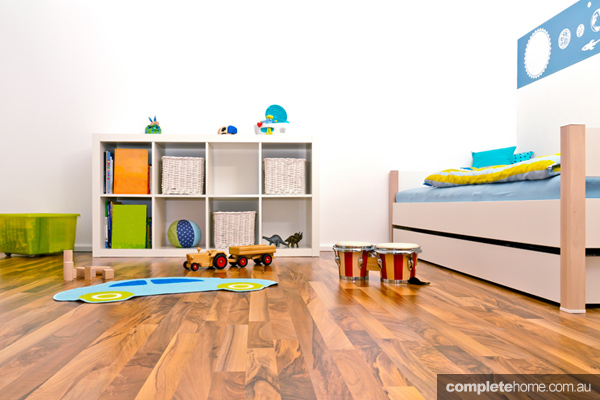 Watching over as the excited young couple walk through the doors on moving day, to the arrival of the first, second and possibly third born, the home is like an extended part of the family. Now, Australian families are living in their homes for longer periods as the cost of renovating is a more viable option than upping sticks and moving. But with the extension of your family, how do you ensure your home will be able to cater to your family's lifestyle as the years pass?
1. Zone planning
The typical house has five main areas; the bedrooms, bathrooms, kitchen, living areas and the outdoor space. Commonly known as zones, these areas need to be separate but also need to link with one another.
Architect Justin Quinlan from The Quinlan Group believes the design of the home has evolved from its European origins. "Over the past fifty years Australians have moved on from the English model of compartmentalised living in the front of the house to our own model of open-plan living connected to the outdoors," says Justin. "We try to design our new dwellings such that you can see into every living area when standing in the kitchen and to design the kitchen island as more of a table than a servery."
Designing a home for a young family can be a challenge. Interior designer Amgad Kamel from AK Interiors believes function and practically are the most important elements to a successful home design. "Designing for a young family has to accommodate the day to day function of the house," says Amgad. "Suitable proportions of rooms are key to making the young feel comfortable and cosy in the spaces they are using."
2. Multi-functional space
As the family starts to get older and the children enter those wonderful teenage years, the layout of the home will need a rethink. "Future proofing a house for its inhabitants really comes down to two things — space and privacy," says Justin. "As the children grow, they get noisier and more active; therefore they will need more space and the parents a retreat."
Through the years, children will go from needing space for recreation, to needing space to retreat to. "The key therefore is to design some spaces that can accommodate a variety of uses, such as a games room that can become a TV room or office," says Justin. "Extra space is never a hindrance; however, overdevelopment can result in the house feeling empty once people start moving out."
3. Colour correction
You can normally tell the last time a home was redecorated by the colour of the walls: 60s, pink; 70s, mission brown; 80s, apricot and the 90s, chalk USA. However, from the early 2000s all the colours have been thrown out the pram and now, anything goes.
Wendy Rennie, the colour and concept manager at Haymes Paints, believes when it comes to decorating, there are no rules. "It's a very different approach to how we decorate these days, even compared to five, ten years ago," says Wendy. "There are many renovating shows, decorator's blogs, DIY websites and numerous lifestyle magazines available to us and because of this I believe that people have more confidence than ever in decorating to suit their own lifestyles and tastes instead of following a particular set of traditional colours."
However, even with all the developments in paint (paints with low-VOC emissions), busy traffic areas like kitchens and bathrooms need to have the right type of paint applied. "The right type of paint for a bathroom is a semi-gloss finish to ensure scrub ability, which is key to ensuring the look of the bathroom and the paint maintaining its lustre over time," says Wendy. "New kitchens are often open plan and part of the main living area, so a low sheen is often used as kitchens now have great ventilation."
4. Outdoor living
Australian families have perfected the summer barbecue over the years. Understandably, we spend the majority of the year enjoying our outdoor areas. Designing an outdoor space for a rabble of young ones to enjoy can still pose a challenge.
Landscape architect Julian Brady from Site Design Studios, says first of all, parents should steer clear of plants that are known to cause allergies. "Parents with young children should avoid plants that have sharp foliage such as some of the yucca species and certain cacti," says Julian. "If your property has tall yuccas you can remove the foliage from the base of the plant so the foliage is about head height to avoid any potential risk for poking eyes."
Not all blocks of land are flat; steep plots can create havoc for most families. For a couple with young children this can be a potential danger. "If your property is on a steep block and outdoor areas have accessible drops of 1m or over, then install a 1m-high fence to be BCA (Building Code Australia) compliant," says Julian. "Alternatively, build 1m-high raised planter boxes in front of areas to keep the children away from fall zones."
However, not everyone is blessed with a half acre block of land, and many people now live in the fashionable terraces of the inner cities. As most of these homes either have a small outdoor space or courtyard, Julian has some tips on how to open and maximise the area's potential. "Measure the space so you can prepare a plan of the area, write down how you and your family would use the space, avoid cluttering the space with too many items — keep to one theme and make it work well," says Julian. "For small courtyard spaces, the use of a mirror on the garden wall can create the sense of a larger space and provide a wonderful feature.
By Tessa Hoult
Image supplied by Haymes Paints
From Renovate magazine Vol. 8 No. 2