Stunning pool construction that emulates natural elegance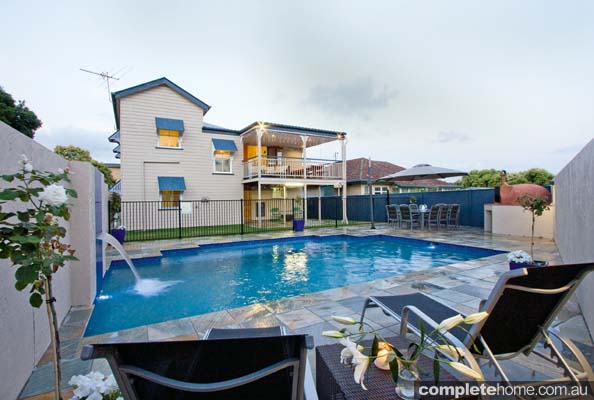 When the owners requested a "resort in the backyard", Queensland Family Pools did not fail to deliver. With its waterline tiles comprising a large portion of the backyard, this pool is sure to entertain every family in the summer. Complemented by a cleverly designed pizza oven, the pool's surrounds not only ensure a wonderful escape from the blistering heat of summer, but also a wonderful outdoor resort any time of the year for visiting family and friends.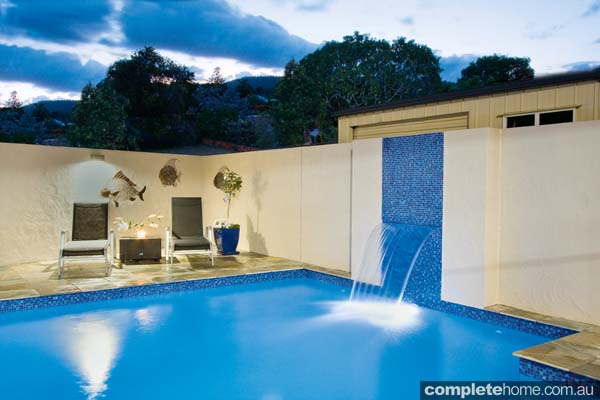 The pool water feature is wonderfully reminiscent of a waterfall. Beneath the sheer-descent water feature is a swim jet that enables the owners to swim kilometres worth of laps in the comfort of their own backyard. But not only is the design of this illustrious backyard resort reminiscent of nature's finest, it is a magna pool with an eco pump to minimise its impact on the environment. With its formal and stylish design, the pool is sure to amaze even after sunset, when the dark-blue interior glimmers from the surrounding lights. There is no doubt that guests will favour the convenient and exquisite luxury of this pool over the crowded beach.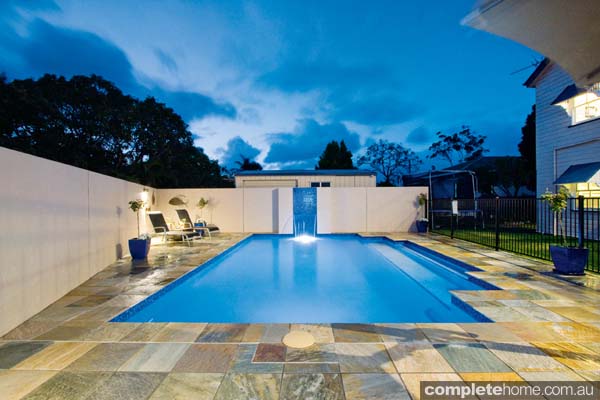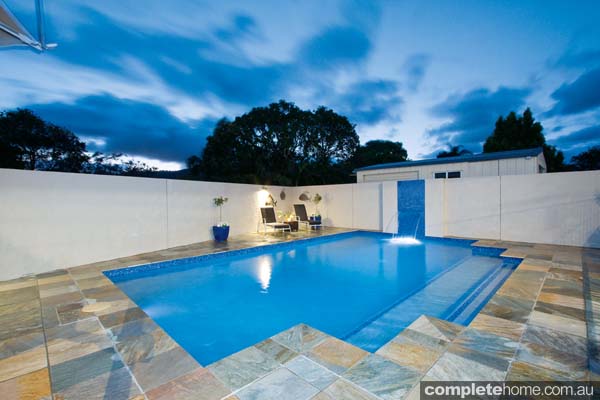 Queensland Family Pools was founded by Chris Nicholls, designer of the pool. Specialising in freeform and contemporary design, the Queensland Family Pools team installs, builds and renovates approximately 80 pools a year. Over the years the company has been honoured with many esteemed awards, including the President's Choice Award, Magna Pool Builder of the Year and Concrete Pool Builder of the Year. Among their principles of outstanding design, the team work endlessly to understand the client's vision and include modern, first-class equipment to ensure that dreams become reality. The people at Queensland Family Pools believe this is a vital step to successful design.
At a glance
Water feature: 900 sheer descent
Filtration: Magna sand filter
Lighting: 2x PAL LED Colour Change (remote controlled)
Fence: 12.1 black ally and gate
Interior: Pacific glass pebble
Fact sheet
Designed by Queensland Family Pools 13/388 Newman Road, Geebung Qld 4034
Phone 07 3216 5004
Mobile 0401 695 333
Email sales@queenslandfamilypool.com.au
Website www.queenslandfamilypools.com.au
Originally from Poolside magazine, Volume 43