Fresh and sophisticated, this luxurious pool design helps to create the perfect atmosphere is this stunning outdoor entertaining area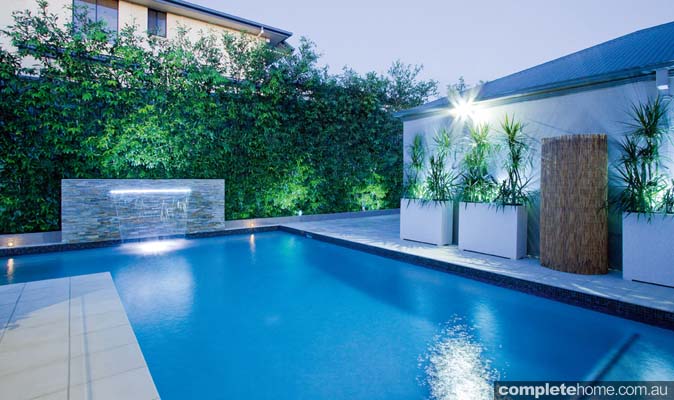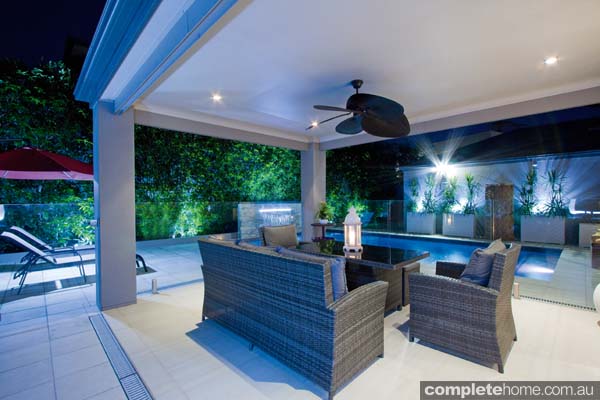 Queensland Family Pools built and designed this modern, angular pool which sits beautifully in the tight space, blending into the irregular shape of the backyard and existing building. The design creates a private entertaining area, encased by walls of lush greenery with plenty of room for relaxation.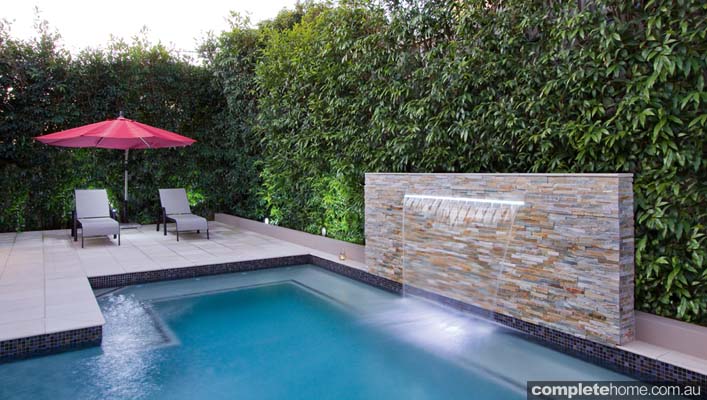 The in-ground concrete pool features an eclectic lighting design, with lights carefully placed in and out of the pool. Four remote-controlled PAL LED colour-change lights and a 1.2m stacker-stone wall with a water feature boasting a multi-colour LED light strip are also incorporated to create a dramatic waterfall of light in the evenings. The lights twinkle off the gushing wrap-around spa and blue border mosaic tiles, setting a majestic mood to the overall space.
Large in size, the 10.8m x 6.2m pool and spa includes benches at both ends, meeting the owners' brief for an entertaining and relaxation space. The pool also boasts a Zodiac eco-pump and a laser pool alarm.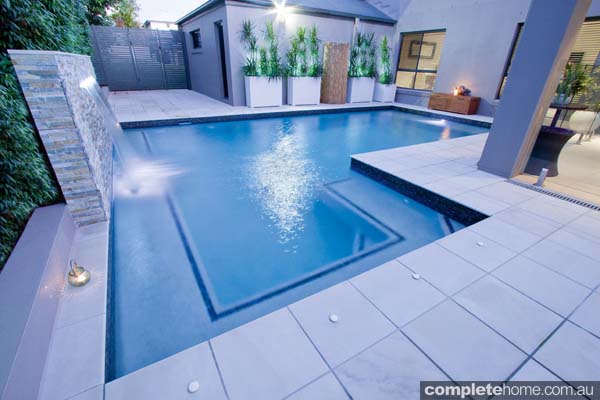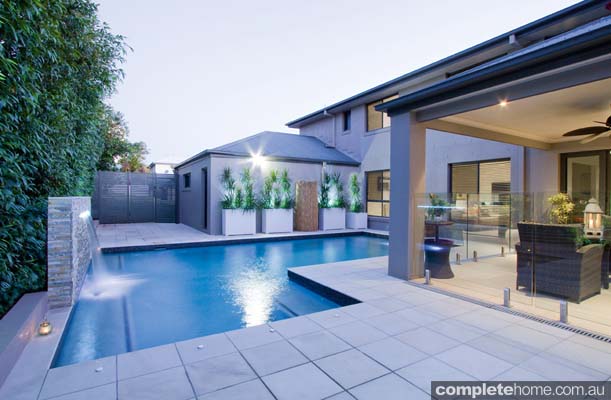 The patio and entertaining area are surrounded by glass fencing, giving the backyard a seamless flow from the house out to the pool area, while enhancing safety and helping to make the space feel larger. Strip drains were placed between the pool and house due to the pool's proximity to the existing home.
This entertainer's poolscape is versatile and well considered. It is a great design model that can be executed nicely in different-shaped backyards while being basic enough to add the clients' personality too.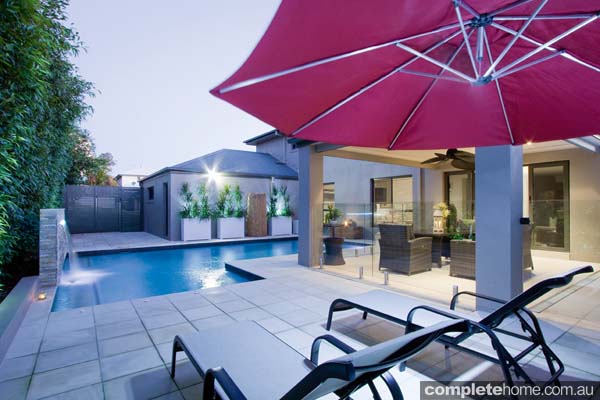 Founded by Chris Nicholls, Queensland Family Pools has been building high-quality concrete swimming pools for more than 20 years. Specialising in freeform and contemporary design, the Queensland Family Pools team installs, builds and renovates approximately 80 pools a year.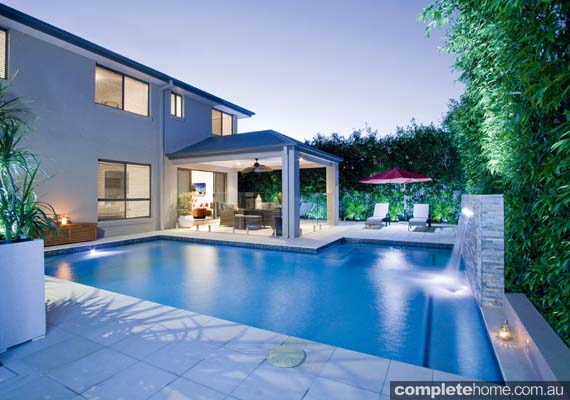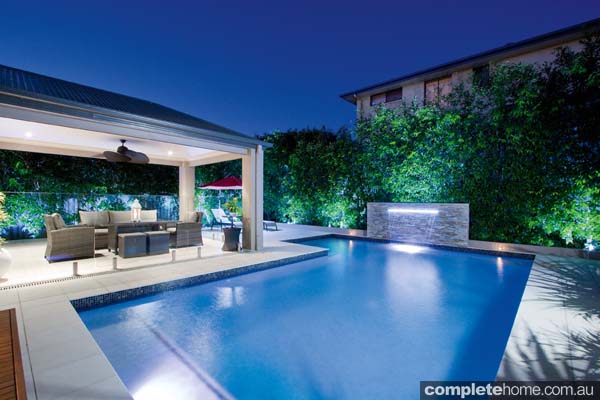 Over the years the company has been honoured with many esteemed awards, including the President's Choice Award, Magna Pool Builder of the Year and Concrete Pool Builder of the Year. Among their principles of outstanding design, the team work endlessly to understand the client's vision and implement modern, first-class equipment to ensure that dreams become reality. These principles, according to the Queensland Family Pools team, are vital to successful design.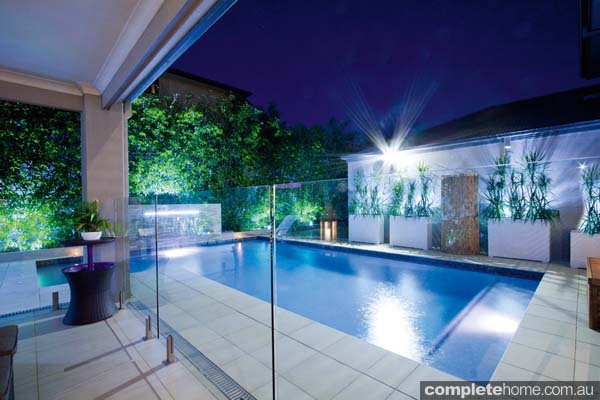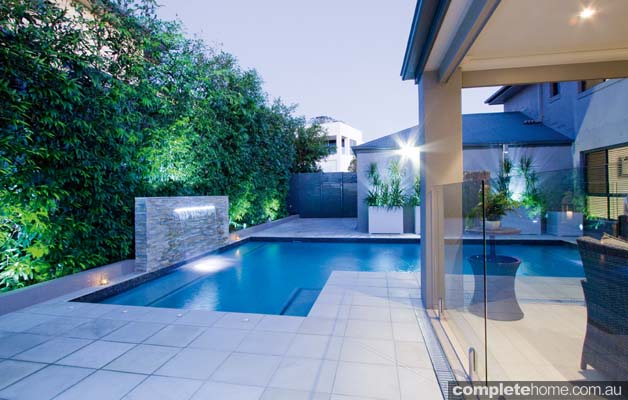 At a glance
Cleaning systems: Baracuda T3
Filtration: Zodiac 2T 650 Glass Media
Coping: Himalayan quartz, "Honed Mint"
Waterline tileband: Havana
Company profile
Designed and built by Queensland Family Pools Unit 13, 388 Newman Road, Geebung Qld 4034
Phone 07 3216 5004
Email sales@queenslandfamilypools.com.au
Website queenslandfamilypools.com.au
Originally from Poolside magazine, Volume 44