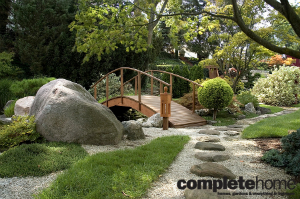 An elegant and well-ordered family garden that maximises the available space
Story: Karen Booth
Photos: Peter Brennan
Home to a family of five — including two tots and a small dog — this modestly-sized property in Sydney's Lane Cove was crying out for a more functional design.
Says designer Dave Garrett of Art In Green: "The backyard was basically unusable as the existing pool took up most of the space. Also, there was nowhere comfortable and relaxing where the family could entertain.
"The brief was to maximise the space to include a grass area where the children and dog could play, replace the tired, old pool and surrounding area and to incorporate extra seating. In essence, what the family wanted was a backyard that flowed from the house to the entertaining area and annex and on through to the pool and grass area.
"What they now have is a stylish, uncluttered garden where a relaxed, inviting feel has been created through the use of casual seating areas, natural materials and a limited colour palette of green-foliaged plants."
But before the transformation could take place, it was out with the old, kidney-shaped pool and tired brick paving and in with a modern pool (fitted with swim jets) and sophisticated pale stone paving.
"The stone paving was used throughout the entertaining area and for the pool coping," explains Green. "This was teamed with low cement-rendered retaining walls painted to match the paving.
"Decking was used around the pool and on the seating areas to connect the various parts of the garden with the earthy tones of the decking and stone paving reflected in the feature stone wall behind the pool."
To balance out the large stone feature wall, a rustic pot was positioned to the right of the pool.
To maintain a sense of openness, the pool is surrounded by frameless glass fencing and clutter has been banished — under-seat storage keeps the pool equipment hidden while the pool filter is tucked behind the feature wall.
Of the planting, Green says: "We used a limited palette of green-foliaged plants to create a calm, peaceful environment that would not detract from the stone feature wall and the mosaic-tiled pool.
"We used Acmena smithii var minor as a privacy screen, Buxus microphylla var. japonica for low, formal hedging to define various areas of the garden and Zamia furfuracea and assorted succulents in pots as accents. A pink frangipani was planted adjacent to the pool to balance the garden bed and to provide splashes of colour during late summer."
Plants are watered by a dripper irrigation system that is fed by a 4000-litre rainwater tank installed against the garage wall.