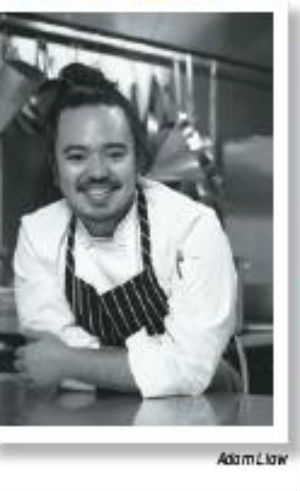 The 2010 MasterChef winner, Adam Liaw, honours two very different Asian styles of cooking with his inaugural cookbook.
By Melanie Gardener
When I catch up with Adam Liaw for our phone interview, he's busy planning another overseas trip, having just completed a whirlwind publicity tour to launch his new book Two Asian Kitchens. Interestingly enough, life has not slowed down for Adam since his much-lauded win of MasterChef Australia in 2010. "It was absolutely hectic after the finale," he explains. "I went from living with just a few people, into a media frenzy. Radio spots, interviews, photo shoots and other publicity took over the next few weeks, so I hardly had time to realise it [the show] was actually over."
After the drawn-out filming process of the reality television show, Adam found the actual finale very fast in contrast. "We were so used to everything taking such a long time to shoot," he laughs. "But the finale was live so it felt like we just walked in and they made the announcement. "It was such a great feeling. I couldn't believe it was all over. I felt happiness, disbelief, relief and then I started to wonder what was going to happen," Adam adds.
The planning process for the cookbook began very soon after the show's finale had aired. "We had our first meeting with the publisher about a week after it finished, then we went into a planning and testing stage which took a couple of months," says Adam. "In the last few weeks, we'd started to talk [among the contestants] about what kind of book we'd like to write, so I already had a few ideas." I suggest that the planning and preparation process must have been very exciting and I ask Adam how much of the final decisions about which recipes to include were his. "Putting the recipes together didn't take long," he says. "Then we tested and culled. I had great editorial guidance and suggestions from all involved. "I would test the recipes first, then they went to an independent tester, and then to the photo shoot with the stylist and home economist. The final choices were all mine." When I ask Adam about his major influence for the book he laughs. "It was really easy to find the recipes," he explains. "But the challenge with the 'modern' section was making them work. The traditional recipes were the easiest — I had enough recipes to double the size of the book".
Adam credits his nomadic childhood for exposing him to a range of cuisines and different food combinations and this book pays homage to the various influences in his life. "The food I grew up eating was a major influence but it was also my mum and grandmother," he confides. "But I feel that my life has been a progression of experiences that led to a strong connection with cooking." Before he was 18, Adam had lived in more than 20 different homes in four countries and he says, in the introduction to Two Asian Kitchens: "Throughout my life I have been surrounded by different cultures.
My father is a Hainanese Chinese from Malaysia; and my mother is Singaporean-born with English, French and Indonesian heritage". Foods from an amazing array of cultures would sit side-by-side on the family's dining table without conflict. As Adam explains, "The food we ate was simply the food we loved." Most chefs and cooks have a signature dish or a favourite meal to make so I ask Adam about his. "This is a very tough question," he says. "I don't have a favourite dish really. I like to do all sorts of different things. I think you need to have variety or you get stuck in the same old routine." Newly moved to Australia, Adam had some clear must-haves when it came to the kitchen in his home. "My main consideration was to make sure I had a good kitchen," he says. "I love to potter around in it and I spend lots of time here.
My current kitchen has polished concrete benchtops which I just love plus a couple of stainless steel benchtops. It also has gas cooktops and is really easy to work in." Is there anything he'd like to change? "Well," he chuckles. "It could be a bit bigger." Of course, I need to know if Adam has an essential item in his kitchen that he cannot live without. "My coffee machine," he answers without pause. "It's the most important item because it gets everything started." Adam's busy life doesn't look like it will slow down any time soon with preliminary plans for a second book already in place, plus Adam's focus on launching his restaurant in Surry Hills, Sydney in September/October this year.
I love Adam's description of how food is a loving reflection of his family so I'll leave the last word to him. "The Two Asian Kitchens in my life are The Old Kitchen and The New Kitchen. The Old Kitchen represents the traditional dishes of my family history — hawker noodles, Japanese yakitori, sour and salty Malaysian laksa. The New Kitchen features modern dishes that draw on the memorable flavours and experiences of my own life as a migrant in Australia."
DETAILS
Two Asian Kitchens is published by Random House Australia.
Website: www.adamliaw.com