Interior designer Craig Spencer has transformed a barren apartment into a passionate exhibition of art and culture.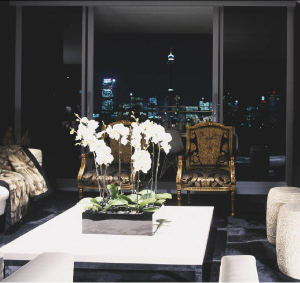 By Rebecca Hines 
In this home, every piece of furniture commands attention. Flecks of gold leaf and sheer, white surfaces glow almost reverentially against strong, black walls. Lighting has been reduced and redirected to pay homage to artwork from around the world. And, most importantly, the Sydney skyline, incandescent against the night sky, is in complete harmony with this inner space.
Before Craig worked his magic, this three bedroom apartment in Potts Point was a stark white-and-grey affair; a space without soul or personality, saved only by extraordinary views of the city and Sydney's harbour. Craig's first task was to make the space worthy. "The major consideration was to respect the view. With all main rooms, including bedrooms and living spaces, facing the view, it was essential," he says.
The contrast between the glittering skyline and the cold interior was jarring, so black became the controlling concept from which the rest of the design evolved. Walls have been coated in Dulux Deep Onyx, a custom-black nylon-pile carpet stretches across the floor, and plinths and benches cut from black granite cast strong masculine lines across the room. Except for the chic white furniture and white-washed ceiling, you might think you were part of midnight. In the kitchen, subtle texture shifts of high gloss polyurethane onyx cabinetry installed with charcoal mirror splashbacks and black-gloss ceramic tiles play against each other to create light and shade in a potentially consuming darkness.
"Black is a colour that requires the greatest respect and must be used in the correct space," Craig says. "I enjoy using black in my spaces when and if it is required. It is an art that must be done well and be carefully considered." Craig admits that if not for the array of exquisite Oriental sculptures and pieces of furniture the client collected in his extensive travels, black would not have been an option. However, Chinese and Buddhist-style gold-leaf ornaments, yellow fabrics, and natural stone statues prove elegant highlights to Spencer's enclosed nightscape, infusing the space with life, history and a certain kind of magic. The overall effect is akin to a seductive and opulent gallery, with each object being given its own light to bask in and its own space to control.
The physical structure of the apartment was largely untouched, except to add a small entry foyer. According to the client's brief, this consequently enclosed the kitchen area into a more practical and private preparation space, separate from the client's entertaining area. Meanwhile, walls clad in reflective black colourback glass and a large silver-backed mirror in the foyer give the impression of a spacious and welcoming point of entry.
The apartment also features a large verandah, separated from the interior by vast glass walls. It is tiled in sleek white, lighting up the floor like a stage. Stepping into this space is indeed like a dramatic transportation into Sydney's nightscape, as gazing out at the view suspends you at once between darkness and bright light.
But perhaps the most stunning feature of this decadent home is the custom-printed gold, cream and black panelling stretching over an entire wall in the master bedroom. It reaches out from the sides of the bedhead and up towards the ceiling, lit up by three glorifying spotlights. The effect is almost to cast the bed itself into the realm of art, framed so beautifully by this stunning feature wall.
For five years, Craig Spencer Design has shown unwavering dedication to its projects. "Every client is a highlight, every project is interesting," says Craig. It is clear to see that every detail towards the transformation of this Potts Point gem has certainly been carefully considered, delivering a stylish exhibition space that is so inviting it could be opening night every night.
Photography by Anson Smart
Craig Spencer Design
Suite 7 Level 4, 35 Buckingham Street, Surry Hills NSW 2010
02 9698 1534
0404 069 361