The process of encompassing a style such as oriental into modern country is easier than appears at first glance.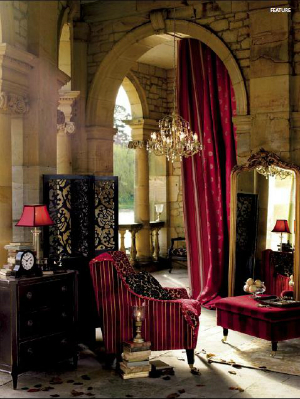 The most interesting homes I have had the pleasure of visiting have a well-developed interior in which the owners have knowingly (or not) used a number of different styles. The reason these interiors work well is due to the fundamentals of interior design which they adhere to. They apply these fundamentals yet stretch the idea of what a particular decorating style entails. They create a space which is refreshing and inspiring.
The inspiration for these homes often comes from many arenas. It can be personal or as simple as a visual pleasure. History and travel also have a strong influence on individual decorating styles. The explorer Marco Polo introduced the west to the exotic styles of the Far East with his descriptive accounts of foreign travels. But surely oriental influences are so far removed from country that they would never blend with modern country décor? Actually, the process of encompassing a style such as oriental into modern country is easier than appears at first glance.
Oriental style is a fusion of the cultures of Japan, China, Vietnam, Thailand and other prominent Eastern societies. Some designs may be true to one style, while many oriental rooms are a combination of two or more cultural influences. Each of these cultures imparts different strengths to the design style. The latest release from Laura Ashley depicts those different cultures within the oriental style with the opulent blend of patterns and colours.
Modern country style has diverged away from the associated clutter and matured. However, people still look to this style to give them feelings of warmth, comfort and family that you get in traditional country homes. When analysing oriental-style decorating, there is a similarity in the desired outcome. Major design elements that influence this include the use of warm colours, textures, a strong use of motif and pattern and a balance and harmony to the arrangement.
Often noted as eclectic in style, interiors that have applied various decorating styles provide an interest to the visitor with their wealth of diversity. This gives an open licence to look beyond the traditional and source inspiration from the unexpected. When using a number of styles within one room, it is helpful to know what percentages of each should be used. Within eclectic decorating, 60 per cent, 30 per cent and 10 per cent is a good guide to follow. This allows for a dominant, secondary and accent theme. An example could be: modern country 60 per cent for the base use of colour and furnishings; oriental 30 per cent for the use of motif, pattern in fabrics; and arts and crafts 10 per cent for the use of particular accent furniture and artworks.
Within modern country and oriental decorating there is often a need for a neutral palette base upon which the design is built. This minimises the feeling of clutter yet allows a backdrop suitable for display. This can be seen in the Laura Ashley Oriental release with the combination of rich fabrics and colours teamed with neutral backgrounds. Traditionally, oriental style encompasses much about the balance between opposing forces (yin and yang) so when looking to each design element, both sides are explored. For example, when choosing a colour scheme it is necessary to look to strong contrasting colours. Red is very prominent in Asian decorating (it is the male yang and symbolises good luck within Chinese culture), as is the use of yellow and green. These colours also feature repeatedly within modern country. They hark back to nature and the feelings of warmth, happiness and new life. Oriental style also has a strong use of black (it is the female yin and symbolises rejuvenation within Chinese culture) which provides definition and form.
Whether you choose modern country or oriental in your room as your dominant decorating style, the use of pattern and motif will help define the space. Wallpapers, fabrics, carpets and individual painted pieces all come to play within the room. This is where individual tastes vary and the room nurtures a personality. Accent pieces, including those that are Chinoiserie in style, will highlight the colour and form of the patterns. Blending oriental and traditional patterns and motifs can provide interest and variety. If you are unsure of where to start, a comprehensive and well-thought-out range of fabrics and furnishings, such as the Orient range from Laura Ashley, is a great place to begin.
Once the colours and patterns have been determined, the furniture arrangement needs to be carefully considered. Avoid symmetry as this causes the room to lack variety and interest. The outline of furniture should be smooth, simple and varied in relation to volume and vertical arrangement. As with the other design elements, use variety to avoid monotony and repetition. Oriental decorating uses a "less is more" philosophy — not in the minimalist tone, but looking to less quality pieces rather than more mediocre pieces. This will provide a focal point in the room. The room style then maintains its opulence through quality, pattern and colour. Using pieces like the Henshaw lacquer-look cabinet furniture range from Laura Ashley will perfectly complement this viewpoint.
Designing a room using a variety of styles can be challenging, but rewarding. Within this design process, seeking out new inspirations will aid a design that has an individual personality. By following design principles within this process, the space will be transformed into a place that will be admired and enjoyed for years to come.