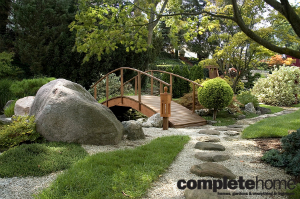 This family entertaining pavilion has a shed-load of Aussie style and character
Story: Diane Norris
Photos: Peter Brennan
Backyard entertaining has evolved dramatically over the last few years. More and more we are seeing stylish and often very sophisticated alfresco rooms that provide the ultimate in entertaining experiences, such as this impressive outdoor entertaining pavilion.
This backyard setup is the pride and joy of Joe and Bronwyn Gaffa. Nestled comfortably in their suburban backyard on the outskirts of Sydney, it reminds you of a rustic shearing shed that has been painstakingly converted.
The covered structure is large, measuring 16m long (which is nearly the full width of the backyard) and just over 5m wide. Joe designed the pavilion and built it too — with a lot of love and a little help from his brother. It took just on three months from start to finish and was completed one week before last Christmas, just in time for the planned festivities. "On that Christmas Eve we had exactly 102 friends and family here and at any one time there were probably more than 60 in our pavilion — it was just perfect," recalls Bronwyn.
"Joe and I love entertaining. And we have a large family, five children, so we have dinner out in the pavilion all the time," she adds.
When you look closely at this outdoor room it's clear no detail has been disregarded. Years ago, Joe and Bronwyn began collecting agricultural-type artifacts and bits and pieces from old farms, garage sales and farming properties around the Goulburn district where they were living at the time. There are old sickles, picks, scythes, ironwork, rustic ornaments and wooden wagon wheels. These have all been impeccably and proudly displayed at each end of the pavilion. There are also other quirky touches, like the huge Komodo Dragon watching from the sidelines that Bronwyn says they found "somewhere near Wollongong".
To give the structure an authentic 'Aussie shed' touch, Joe chose subtly corrugated Mini Orb steel as a lining material. It's clean, neat and requires absolutely no maintenance, and the farm ornaments couldn't have been displayed against a more appropriate background.
Even though the structure has a lived-in quality and the kind of warmth you tend to associate with the well-worn timber found in old farm buildings, it is made of all-new timber or 'seconds' with little knocks, flaws, knots and divots that add to the rustic feel Joe was seeking.
With such a large family to cater for, and this includes a huge extended family, Bronwyn says this outdoor room is simply irreplaceable as it can be used all-year round. In winter they use moveable heaters to warm guests and during summer the open-sided walls allow the whole structure to be aired and cooled with the aid of two plantation-style ceiling fans.
At one end there is a bar; at the other, two large built-in stainless-steel BeefEater barbecues set into a large bench. Mini Orb was used again here and hides the gas bottles and cooking utensils from view and there is an adjacent pathway that leads straight out for easy access to the lawn area and house.
There is a very long wooden table that can comfortably sit 10, with room for more if required. Hanging lanterns with amber shades provide sufficient light for dining during twilight hours and contribute to the pleasing and welcoming ambience.
This superb outdoor entertaining area ticks all the boxes. It has been lovingly designed, built and decorated by Joe and Bronwyn and has become the envy of many. As Bronwyn says: "People often want to come in and see our backyard pavilion — it's just fantastic and we love it."