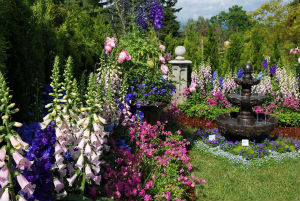 All embracing and emotionally uplifting, the tropical garden gives a sense of sanctuary
Story: Catherine Stewart, MAILDM
Photos: Glenn Weiss
Tropical gardens first became fashionable back in the 1980s but, unlike other garden styles that have come and gone, they're still very much in vogue. Much of the current fashion for more minimalist foliage — planting with cordylines, draecenas and bromeliads — also owes its origins to tropical garden devotees who sourced, imported and developed a huge range of fabulous plants that had not been seen before in Australia.
For a garden style to endure so well, it has to be practical, easy, universal and somehow connect with us emotionally. Tropical gardens certainly do all that.
Resort relaxation: Lovely plants well arranged is not really what a garden is all about. Much more important is the emotional connection it makes with our lives. Faced with the daily grind of work, Australians dream of a holidaying in a tropical island paradise, with palm-fringed shores, the primeval power and mystery of the jungle behind and a day spent lounging by the pool, sipping an umbrella-covered drink. What better way to enjoy your garden than to make a place that feels like a holiday all year round, where you can escape and pretend that work and responsibilities are far away.
Australia-wide: While we think of tropical gardens belonging to north-eastern Australia, you can make a tropical garden pretty much anywhere that the humidity is not too high and has only light frosts. Sydney, Melbourne and even Mediterranean-climate Adelaide all have superb tropical gardens.
Urban retreat: Escaping from the bustle and noise of life has become a high priority and a tropical garden makes the perfect sanctuary. High canopy palms provide shady areas, layers of planting disguise the boundaries, blocking out the neighbours, and soothing water masks intrusive noise.
Low-maintenance: Not many of us have the luxury to spend time dead-heading the flowers, pruning or tidying the garden. Tropical garden plants are mostly very low-maintenance as dense planting disguises fallen leaves, makes neatness unnecessary and covers up times when some plants are not looking their best.
Divide and rule: Although you might think that the way to make a garden feel bigger is to have large, open spaces, in fact, the opposite is true. Tropical-style gardens divide up the space into small clearings, separated by thickets of planting and connected by narrow paths. The feeling that there is always more to discover makes even a small garden feel much larger.
Garden ornaments: If you love statues, water features and garden ornaments, a tropical garden with several 'rooms' gives you many settings, as you won't be able to see more than a couple in one view.
How to do it: Plan and shape your open areas for lawn, paving or ponds and connect them with narrow pathways or archways. Garden beds contain and shape these separate zones, stopping views in and out. Make sure to leave a deep garden bed width along all the boundaries so you can block out the surrounding houses.
Install at least one water feature that makes enough sound to mask traffic and neighbourhood noise and bring in as much organic matter as you can to enrich the soil.
First planting job is to establish a canopy of palms, to create the tallest layer, lift humidity levels and make pools of shade. Invest in the biggest palms you can afford as many of the understorey plants are fast-growing, so you can use small sizes.
Second, choose plants for your first understorey layer that will grow about 2-3m. This is essential to fill in the sight gaps as the palms mature and become only narrow trunks at eye level. A strong background of greens makes a good setting for some brightly coloured foliage plants, such as cordylines.
Third, choose plants for a ground layer that grow 30-90cm tall. These need to be planted closely enough that you won't see the ground between them. Plant in drifts surrounding the larger open zones; you can use the more intimate spaces to display a wider variety of collectibles.
Next, set stone and painted timber statues and artwork off against the rich-green foliage and install low-voltage lighting for a different night garden.
Last, pour yourself a long, cool drink, pull up a relaxing chair and be on holiday every day of the year.