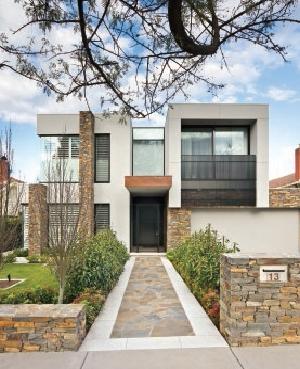 Whether made of pavers, pebbles or gravel, a path of stone adds warmth and charm

By Karen Booth
Paths form part of the backbone of a garden. They help define spaces, lead the eye towards focal points and provide access from one part of the garden to another. They can also be used to add mystery to a garden or connect and unify areas.
Any path, whether straight, curved or stepped, has to be stable, steady and non-slip so there's no risk of taking a tumble. Using natural stone is one way to create a path that will be firm underfoot and contribute texture, colour and warmth to a garden design.
Stone pavers can look a treat in more relaxed settings such as a cottage or bushland garden or in something more ordered, such as a formal garden or a modern, minimalist design. It's all about the stone you choose, the colour, the shape and the finish. Some of your choices include:
• Stone Pavers: Sandstone, slate, bluestone and granite are popular choices for paths. Sandstone is a popular choice and is available in an array of colours (ranging from pink to gold tones) and patterning. You can use square or rectangular conventional pavers or crazy paving, where the random shapes can be used to create a more natural, relaxed look.
• Stone Cobbles: Stone cobbles (sometimes called setts) are often used for driveways and can be used for garden paths to ensure a co-ordinated look. The surface will be more uneven than stone pavers, but they have a certain charm about them that speaks of times gone by. Cobbles are also a good idea for curved paths, as you can create gentle bends without the need to trim pavers into shape.
• Stone Stoppers: Stepping-stone paths can be used in a variety of garden designs. The steppers can be rectangular, square or random and can be surrounded by river pebbles in a contrasting colour, allowing the steppers to stand out. Plants can also be used around the plants. Either something like a dwarf mondo that has a compact growth habit or, if you want something that will drape over the edges of each stepper, you might want to try blue star creeper, creeping thyme or native violets. 
• Pebbles and Gravel: If you like the look of pebbles and have some creative flair, a fun option is to use pebbles of different colours set in mortar to create a decorative pattern. Crushed gravel is another option if you like the look of natural stone. Gravel isn't as durable as a solid stone path, but gravel paths are certainly charming, lend themselves to the easy creation of meandering shapes and are generally inexpensive. Gravel paths look very much at home in cottage, rustic, bushland or Mediterranean-style gardens.
Border your garden path with low-growing plants to define it and make travelling along it a pleasurable pursuit. Paths can be bordered with ornamental grasses, flowering plants, herbs or any combination you like.
Of course, the first duty of a garden path is to get you safely from one place to the next. Just as with any paved area, badly laid paths can cause water to puddle, presenting a slip hazard and promoting the growth of algae in the wetter months. Solid paths need to be level but still have enough camber to drain properly.
For an entry path, say from the front gate or garage to the house, make it wide enough to allow two people to walk next to each other. About 1.2m should be sufficient. Paths that are considered secondary can be narrower.
While a straight path might work well for an entry path or look perfectly at home in a formal garden design where paths are laid on an axis, for a more natural and interesting look introduce curves and run paths around trees, boulders and major garden features. To keep curves in place, LinkEdge is a useful product. It's made of aluminium and designed to be used for curved shapes. For straight paths, aluminium, steel or masonry edging can be used.