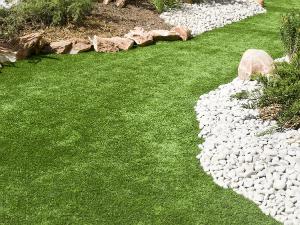 Offering amazing variety, pebbles have reclaimed their place in modern garden design
Story: Scott Brown, MAILDM, MAIH
Remember those gardens in the 1960s, the ones that were covered in white pebbles? How many of us have since ripped out areas like that, replacing them with some paving or, perhaps, garden beds covered with leaf or bark mulch?
Well, everything that was old is new again! While the exact same pebbles may not be in use today, the prevalence of pebbles, and gravels, in modern garden design is one of the most striking and noticeable trends to have evolved over the last four years or so.
This resurgence owes a lot to the lead taken by building architecture. Modern home design has embraced the use of natural materials such as stone and rock, both for interior and exterior use. As the relationship between the "inside" and "outside" of modern homelife has become more important, the desire to link them more effectively has gathered momentum. The popularity of natural stone and, in particular, pebbles in garden design has grown accordingly.
While pebbles are being used in the landscape to complement modern building architecture, or to help establish specific garden styles (such as tropical or bushland styles), there are also practical and horticultural benefits for the garden.
Pebbles or gravel used as a ground treatment in the garden can reduce moisture loss (that is, evaporation) from the soil, which has become increasingly important given the drought. Equally, they minimise soil erosion from wind and rainfall and help to protect the shallow roots of plants from the sun. They can also insulate the soil from significant changes in air temperature.
Gravel or pebbles can be used as a groundcover in garden beds (as a decorative mulch), as a garden path, as a decorative border or infill in paved areas, or as an alternative to lawn. Pebbles of various colours and sizes can also be used as decorative elements on vertical surfaces such as the back wall of a water feature or as a feature panel in walling. Vertical treatments can make use of individual pebbles, or pebble 'sheets' which have the pebbles fixed to a backing-mesh (like tiles).
Generally, the difference between pebbles and gravel is that gravel contains all grain sizes, including the fine particle dust, whereas pebbles may only constitute one or a number of larger grain sizes, minus the fine-grained sand and dust. This means that gravel is more suitable for use in hard-wearing pathways or pavement areas, because it can be compacted, like pie crust, due to the combination of the fine particles that fit snuggly between the larger stones. But drainage is more critical in such cases as the compacted gravel is more impervious to water, so surface drains, and the sloping of such areas for rain run-off, becomes important.
Conversely, pebbles (such as the popular river pebbles) lack the fine-grained dust and, therefore, water can drain through to the soil beneath. This means that pebbles are more suitable for groundcover treatments in garden beds or other areas where water penetration is important (such as for plants or trees). If pebbles are used for driveways, paths or pavement areas, they will require constant raking, and walking on such surfaces can be difficult (especially if the pebble size is large).
There is a vast range of gravel and pebble types on the market. Because they are a natural resource, this range is constantly changing according to availability. In Victoria, one of the best known examples of gravel is Lily-dale Toppings, which is actually crushed limestone, and has a grey-white colour. If dampened during compaction, it forms a good firm surface suitable for large driveways and casual walkways. However, like many gravels, it does tend to stick to one's shoes when damp, and can be "walked" to areas where it's unwanted (such as into the house).
There are many other gravel types which have specific colours (such as the grey of "blue metal" toppings, which is actually crushed basalt), and these can be found at most garden supply outlets.
Pebble types are just as varied, ranging from the pure white of crushed quartz (used for Japanese or Asian style gardens) through to tumbled water-worn pebbles of just about any size or colour imaginable. Natural river pebble blends have a mixture of colours in them, as well as a mixture of pebble sizes. It is the mixture of both size and colour in these blends which lends them to a wide range of uses. They have a more natural appearance and can be used for water features, ponds or creek beds, as well as garden-bed surface mulches; even as a decorative infill between stepping stones in a pathway.
The onset of the drought and climate change has also contributed to the popularity of pebbles and gravels in contemporary garden design. They lend themselves to the modern somewhat "harsh" architectural landscapes which have been popular in recent times but pebbles can also be used in lush settings and in more traditional gardens.
About the author: Scott Brown is a Melbourne based landscape designer and director of Scott Brown Landscape Design.