After an introduction to architecture at an early age, Nat Talarico actively pursued his dream of owning his own construction company. With the success of Platinum Projects, it's clear that his perseverance paid off.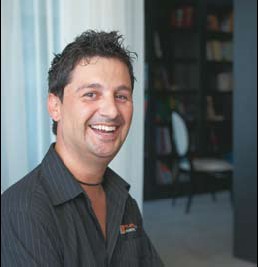 With family members involved in every aspect of the construction industry, such as carpenters, form workers, plumbers and electricians, it is only fitting that Nat Talarico has found himself as the director of co-owned construction business Platinum Projects (Aust).
As a kid, Nat's carpenter father would take him to various worksites, from exclusive residences in Point Piper and the eastern suburbs to commercial projects such as Flemington Markets. This experience sparked his fascination and passion with the industry, leading him to a degree in civil engineering, followed by the birth of Platinum Projects (Aust) in 2002. Platinum Projects came into the industry at a time when the construction climate was quite buoyant and Nat says they found themselves building waterfront residences and a lot of bulky goods outlets. Over the years, trends in building design have changed and Nat notes that today it seems the bigger, the better. "Years ago it was single and two storey homes, these days we are finding that we are being contracted to build three to four storey homes, most with lifts and basements to accommodate four to six car garages." 
More than just the size of the projects, Nat says technology is becoming more integrated into homes than ever before. "Home automation and audio/visual is becoming a priority in the homes we are building," says Nat, explaining that clients are even requesting comforts such as heated floors and towel rails and automated blinds and operable skylights.
"Everyone is trying to create their own oasis to accommodate their family." Nat adds that the introduction of BASIX has also played a role in the evolving trends, with energy-efficient devices, LED lights, voltaic cells and double glazing becoming the norm in current construction. A shift to sustainable housing has also meant Nat and his team at Platinum Projects (Aust) have had to train, implement and get up to speed with all the new technology. Nat believes that sustainable housing (whether it's at a government, public or private level) is here to stay. "Clients are requesting that designers include and/or incorporate water conservation, passive solar design, energy and greenhouse-efficient water heating, adaptable living for when they reach an older age, and indoor air quality by avoiding VOCs (volatile organic compounds) in the homes or units of today." 
Having won the MBA Excellence in Housing award in 2009, Nat believes the point of difference for Platinum Projects is personalised service and helping to "value engineer" the projects. Nat has made it a priority to be honest and upfront with clients, to not only create healthy working relationships, but to also earn client respect and repeat business. "We honestly try to help clients with meeting their budgets without compromising on the architect's and design's original intent," says Nat. "We value-engineered and redesigned a project for one particular client on a development which won us the MBA Excellence in Housing award. They were so impressed with our co-ordination, service and quality that they engaged us to build their personal residence in one of Sydney's exclusive waterfront suburbs." 
Nat's vision for Platinum Projects in the future is one of continual expansion and sustained economic growth. Showing great leadership, Nat wants to ensure his staff are in a great working environment and are kept up to date with techniques and technologies that will keep the company ahead of its competitors. "My vision is to continue to provide beautiful and award-winning homes to the people of Sydney and for Platinum Projects to be synonymous with quality and exclusivity in residential projects." 
For more information on the construction work by Nat Talarico, visit www.platinumprojectsaustralia.com.au