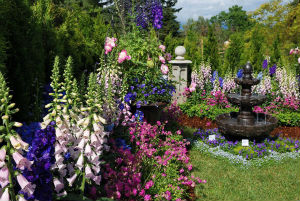 If you have an interest in native plants, then a visit to the Australian Garden is a must

The Australian Garden at Victoria's Royal Botanic Gardens Cranbourne celebrates this country's highly distinctive landscape. In particular, it is a stunning showcase for the beauty and diversity of Australian native plants, which are enjoying a long overdue resurgence in popularity.
Red Sand Garden, Water Saving Garden, Rockpool Waterway, Dry River Bed, Eucalypt Walk … there is plenty to engage every visitor, whether their interest runs to contemporary landscape design and outdoor art or sustainable gardening practices and drought-tolerant planting.
Less than an hour's drive southeast of Melbourne, this is a distinctly different botanic garden, largely due to its innovative design, the creation of leading landscape architects Taylor Cullity Lethlean and plant designer Paul Thompson.
Selecting just one of many stand-out examples, the Red Sand Garden is an awe-inspiring invitation to visitors to view the desert landscape and its flora differently. Vibrant red sand contrasts with the grey foliage of inner Australia while lunettes (crescent-shaped sand dunes) remind the onlooker of the massive sand dune systems to be found in the arid lands of central Australia.
Then there is the Dry River Bed, which speaks of the ephemeral nature of water within the Australian landscape and the power of water to shape the land into river beds on a seasonal basis. Greg Clark's Escarpment Wall Sculpture also draws gasps of admiration. Inspired by the red sandstone escarpments found at Uluru and King's Canyon, the artwork stretches nearly 100 metres in length. The cascades and shallows of the Rockpool Waterway flow alongside the wall undercutting its eastern face, as though erosion has slowly eaten away at its underside.
The Australian Garden is an inspirational place and a font of knowledge for gardeners, or anyone interested in giving their garden that quintessentially Australian look.
Australian Garden
Royal Botanic Gardens Cranbourne
1000 Ballarto Road,
Cranbourne, Victoria
Open 9am to 5pm daily (except Christmas Day)
Adults $9, children up to 15 free
Website: www.rbg.vic.gov.au/australian_garden