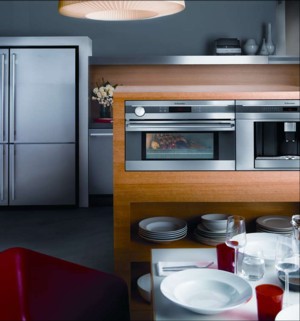 He's an award-winning designer who needs little introduction. Taking out the crown for 2009's KBDI kitchen designer of the year is just one of Mal Corboy's career highlights. He holds the qualification of Certified Kitchen Designer in both New Zealand and Australia and has a plethora of work to his name. He is currently working on several projects based in Melbourne. For Mal, there's no such thing as a favourite project. "It's hard to pinpoint a favourite project of mine as I put my heart into all the kitchens I design."
He is constantly designing new and innovative concepts for the kitchen and it seems everyone has an opinion of his work. "If you ask the manufacturers I work with they would say it's the kitchen they are working on that is their favourite. They often tell me 'this is your best work ever' and they love the challenge of my designs as they often push the boundaries." Whether it's just a kitchen or an entire home's fitout, Mal personally designs and oversees the entire project. He says there are a few key elements owners need to get right in the kitchen. "They need to choose their appliances early," he explains. "When choosing, think about what functions these appliances will need to fulfil." It's your lifestyle that needs to work with the kitchen so if you do a lot of entertaining, then two ovens or a 900mm-wide oven should be incorporated into the design for convenience, he suggests. For an island bench to be positioned in the kitchen, ensure there is at least a 5m back wall, otherwise — experience has told him — it won't work. Hardware is another important element you need to get right first time. "By spending a little more on the hardware, you will save money in the long run as you won't need to constantly fix broken hinges or have drawers drop." The hardware is the bones of the kitchen, he claims, so it needs to be top notch. "There is nothing worse than seeing an otherwise nice kitchen look shabby within a year because the 'bones of the kitchen' have let the design down." Above all else, though, understanding that form and function need to work harmoniously in this space is key to achieving the perfect chef's corner. "There's no point in having a stunning-looking kitchen if it doesn't function properly," he adds.
While many experts in the field encourage owners to "play it safe" with neutral tones, this isn't how Mal sees it. When asked what colour he'd recommend for the ideal kitchen, he answered "none. There isn't one perfect colour palette for the kitchen. Instead, you should have the colour you want. Don't be afraid to introduce colour into your living space. With that advice, I should say there is a fine line between stunning use of colour and the 'what were you thinking?' moment. "That's where I come in. It's my job to counsel my client's through that process to ensure the project turns out just as they'd hoped. At the end of the day, remember it's your kitchen so do what you want with it. Don't listen to other people's opinion or you'll end up with their kitchen. No one ever stands in a friend's kitchen and says 'It's awful. I would never do that' but even if they do say it as they are walking down the drive, it shouldn't matter to you." Mal's inspiration comes from the most unlikely places — from shoes, clothing, restaurants, bars, chairs, the Food Channel and the list goes on. "One thing can spark an idea or a concept for my next design. I had to design a kitchen for a show once and nothing was coming to me. I just knew it had to invoke feeling and opinions. It was while I was watching some kitchen show that the idea for 'pop art' came to me. I immediately announced it to my girlfriend and took off to design. The result was perfect but I can't begin to explain how that idea evolved," he recalls. "It is really life in general that inspires me."
Innovation is leading the way of trends in the kitchen, says Mal. Owners are looking for more technology such as televisions, computers and even iPods to be integrated into the kitchen's inner workings. "I've noticed people want a kitchen that is uniquely theirs," he adds. "I'm finding they love knowing that no two of my kitchens are alike." Kitchens are becoming more of a main feature in our living spaces so they're not only designed to be functional; they also need to resemble a working piece of art.