An elegant Victorian home immediately makes a strong statement, both inside and out.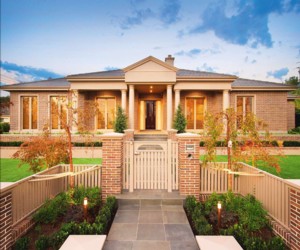 The neo-classic façade of this enchanting Englehart creation in Canterbury, with its pillared entrance, is both strong and inviting. It combines Daniel Robertson brickwork and render to create a handsome first impression with an abundance of street appeal. From the solid panelled front door and wide entrance lobby, the house progresses though fascinating changes in space.
Flow-through zoning creates a feeling of space, yet seclusion is maintained by keeping the home's private areas separate from living areas. The study is masterfully located adjacent to the entry and, with the adjacent living and dining room, provides an interesting balance to the entry. The centrally located fireplace is a solid focal point in the living room and warms even the chilliest of Victorian winters. Double doors open up the floorplan from the entry through to the study and master bedroom, with feature glazed doors to the kitchen/family room and opening the house to the outdoor courtyard entertaining area. This spacious courtyard fills the rear of the house with an abundance of light and is a dramatic feature beyond the entry. The careful layout achieves maximum solar efficiency while also capturing pleasant garden views. Well-proportioned rooms are further defined by recessed ceilings, wall niches and feature painted walls. Complementary earthy colours combine to create a warm yet sophisticated atmosphere. Luxurious finishes, including granite and dark timber, work well with the sophisticated entry façade.
The result is a home that provides year-round comfort and a private haven for the owners.