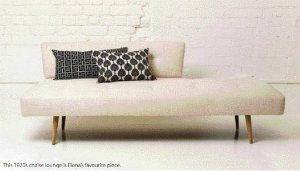 Think retro furniture and a certain rumpty quirkiness instantly springs to mind: faded boucle sofas, worn vinyl armchairs or saggy springed Scandinavianstyle chairs. While many people appreciate the clean lines of mid-20th-century furniture design, they're not always keen on the wear and tear. One such person is interior designer Fiona McLeod, so when she gets her hands on old sofas, chairs and tables, they emerge as pristinely restored pieces that anyone would be proud to use in their contemporary interiors. And she is quickly gaining a name for her work, produced under the FMD brand.
Fiona sources her furniture treasures from various places — charity shops, second-hand shops … "and off the side of the road", she says with a laugh. "Well, not me so much but people who know what I do often ring me to say they've found something they think I'll like." She also has clients who go to her specifi cally for refurbishment work. "In the past there have been two quite distinct strands to my business — interior design, which tended to be a more standard client-driven approach, and the furniture. Now I'm fi nding that clients are attracted to the furniture, then may go on to commission a fuller interior scheme that incorporates the pieces." Her interior projects have included apartment complexes, penthouse apartments, luxury day spas and many residential homes.
Fiona attributes a background in therapy work with being able to quickly understand the tastes and motivations of clients. She says her magpie-like tendencies began early and she would fi ll her parents' garage "with wooden trunks, cast-iron bed frames, milk cans and other rustic pieces. I was more into vintage in those days than retro." When Fiona sees an old piece of furniture, she always has an instinctive feel for how it can be refurbished and what type of fabric she might use. She will often "reform" a piece, replacing legs or bases or adding buttoning as required, giving it fresh character while honouring its origins. Fiona takes great care with fabric pattern and texture selection, and prefers screenprinted fabrics over woven ones for their crisper patterns and more contemporary feel.
Her current favourite fabric designers are 1960s designer Florence Broadhurst and Australianbased Cloth Fabrics.Fiona's favourite piece is her very fi rst piece, under the FMD brand, a 1970s chaise lounge. "It's a very simple design; there's not much to it but I love the clean lines and subtle defi nition in the buttoning. I haven't been able to let it go. I've recovered it three times, just for fun. Because it's such a popular design, I now custom-make it asa new piece which is ideal for clients who require specifi c fabric or leg colours." A yellow sofa "is probably the most talkedabout FMD piece because it's canary yellow. It may not be the ideal sofa for the average home but it receives many compliments. It's gorgeous and fun and surprisingly comfy! Quite a turnaround from the mocking I received from friends who saw it in storage. Most of them insisted the beaten-up muddy brown sofa with ghastly tattered skirt should be out in the next inorganic collection!" Another recent piece that featured on a magazine cover was a renovation of the iconic Kiwi piece, the La-z-Boy. Fiona recovered it in striking fl ame red silk suede and dubbed it the Lazy-Girl. Other pieces include an old photographer's tripod refi tted as a lamp, white tulip chairs and table, a white leather armchair given a swivel base, an asymmetric bookcase, a side table with attached lamp and his-and-hers wingback teal velvet chairs.
Fiona McLeod, FMD studio, 46 Brown Street, Ponsonby Auckland Tel 09 378 1818 Website www.fi onamcleoddesign.co.nz