Many of Melbourne's finer homes featuring rustic blended bricks can be described as distinctive and refined.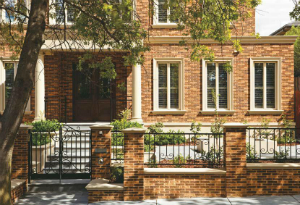 In a leafy Melbourne suburb, an elegantly designed Daniel Robertson brick home adds a touch of sophistication to the street. Established in 1853, Daniel Robertson has been supplying the building industry for more than 155 years.
Daniel Robertson's Roman brick range was developed when clients noticed the bricks in ancient buildings in Europe and in old English Estates were slimmer than the Australian brick. At only 50mm in height, the Roman brick is thinner than the Australian standard 75mm. This brick appears longer and enhances the horizontal dimensions of a building, anchoring a newly built home. Additionally, the use of this brick allows ceiling heights to be maximised when the building may otherwise look too upright with a standard brick. Robertson's clay bricks in both the Roman and standard ranges are fired for tonal variation and have a textured rustic face.
Before delivery, the bricks are hand-sorted into packs to ensure the correct balance of tones appears in the finished wall. Hand-sorting enables Daniel Robertson to custom-blend bricks to clients' requests. The bricks for this home were customblended to achieve a unique range of tones to include rich tans, smoky browns and softer buffs. Daniel Robertson is renowned for producing old-style bricks with an aged character sought by discerning clients and many of Melbourne's finest homes have been built with Daniel Robertson's bricks