Rust-effect metal decor and artworks dress up a series of unique outdoor rooms.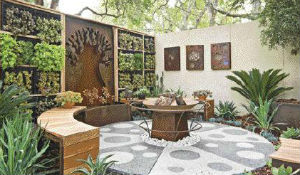 Today, we just can't seem to get enough of rust-effect metal sculpture and wall art, not to mention light boxes, planters and pots, seating, garden stakes, fire pits, screening, mirror frames, candle holders and more.
So what's behind this passion for decorative metal objects with a rust finish? First, people love the versatility of metal. It complements just about any style of garden design and it can be used to fashion the most delicately patterned laser-cut wall panel or create a garden gate, trellis or arbour that is as strong and sturdy as it is stylish. Then there's the established look a rust finish gives to a space. After all, we don't always want our gardens to look like they were just completed yesterday and a rust finish suggests the passage of time.
During the 2009 Melbourne International Flower & Garden Show, some creative ways of using rust-effect pieces in an outdoor room setting were showcased in a display garden designed by Paal Grant, a landscape designer and skilled sculptor. Paal is one of several sculptors who design for Entanglements, the company that sponsored the display.
The award-winning display garden was carved into three zones: an outdoor room for alfresco dining, which featured "rusty" light poles and a recycled timber dining table; a circular lounge area with a rust-effect fire pit and walls sprouting edible plants; and a sculpture garden boasting an amazing laser-cut rust-finish boab tree sculpture.
Designed as an exploration of the "room outside" concept, the display garden demonstrated how metal decor and artworks with a rust finish or aged patina can be combined with other materials, decorative elements and plants to create some very special effects. Take the pergola as an example. Each of the floral-patterned, laser-cut pillars had electric lights integrated into them to give the dining area a magical twinkle at night, while for textural contrast the planters that run around the top of the pergola were filled with the spiky foliage.
At the back of the pergola, a decorative screen made of large metal loops was dressed with red glass tealight holders. The red picks up on the cushions on the square seating cubes and the round shape references the circular form of the outdoor lampshade.
In the midst of the lounge area, its floor of patterned modular cement decking, sat a fire pit for ambience, heat and cooking. On one side of the space, the wall was decorated with a trio of floral panels; on the other, green walls flanked a metal wall sculpture and water trough decorated with metal garden stakes.
When you use so much metal in a design you could run the risk of the look being a little hard, but when you factor in the softening effect of a warm, rusty finish, lovely laser-cut patterns and the abundance of organic form and plant life, the result is a peaceful ambience.
Photography Patrick Redmond  
Project details
Landscape design by Paal Grant Designs in Landscaping. Visit www.paalgrant.com
Furniture and décor by Entanglements 7. Visit www.entanglements.com.au