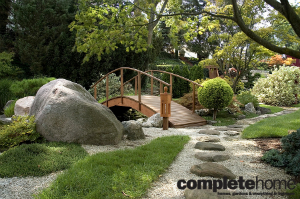 Recycle, reuse, reinvent — the day is coming when this will be the mantra of every garden designer
Story & photos: Grant Saltmarsh
As a professional garden designer, I try to force myself to come up with new ways of solving design problems and challenge myself as the builder of that design to create something that is new, innovative or off-beat.
More often than not, I specify the use of a recycled material I have sourced through the demolition at the start of earlier work. It might be some heavy timbers, paling fences, old steel gates, weathered and worn concrete pavers, handmade bricks or lintel-sized bluestone. My motto is "You never know when that might come in handy", which is why I need an acre of property to store all my bits and pieces for that day when they do come in handy.
If I didn't hold on to these treasures they would end up as landfill. Many people think nothing of sending truckload after truckload of material to the tip, but landfill sites are becoming more expensive and the distances you have to travel to get to them are getting longer. All the professional landscaper — and creative homeowner — needs to do is to run an imaginative eye over the material to see that a lot of it can be rescued from a life as nothing more than landfill and reused, with style and creativity.
For the 2003 Melbourne International Flower and Garden Show, for example, I used reclaimed palings as an edge to my garden beds. I laid them flat in a stack style with a half bond, like bricklaying. Being a weathered Australian hardwood, if they had been placed in a permanent installation they would last many years.
In that same garden, I built a base for my mud-brick pizza oven out of reclaimed handmade bricks. The carport I built in that garden was framed out of paling fence rails and clad in salvaged corrugated iron. The garden was my interpretation of a Central Victorian backyard with rammed earth walls, a rusty steel gate and bluestone stairs. The look was contemporary rusticity and we won a silver medal.
At the start of another job, this time in inner-city Melbourne, I lifted and reclaimed 25 600mm x 600mm concrete paving slabs that had carried 30 years of foot traffic and were worn to a fashionable exposed aggregate finish. Using old handmade bricks, I edged each slab, finishing with a 10sqm path, grouted and acid-washed to a clean, modern finish. Out of the same job I sourced four massive slabs of sawn bluestone that now feature as an outdoor tabletop over a steel and paling fence base in my backyard.
Plants can also be recycled. The Euphorbia characias in my front garden self-seeds so frequently they are easily potted up and given away to family and friends. Dietes bicolor thickens up so much I am about to lift them, hose off the soil from the roots, divide, replant and pot up the excess. More gifts.
The Festuca glauca and Poa labillardieri self-seed and can easily be reused. Anything that needs to be clipped for hedging or general maintenance, such as Buxus, Choisya, Correa and Muehlenbeckia, can be dipped in some rooting powder and potted up as propagated cutting for future planting.
Sourcing materials is easy these days. Bricks, timber, steel, stone, crushed concrete and crushed bricks can all be found online. The Yellow Pages is the best place to start. The Trading Post also has plenty of materials from professional recyclers and private people getting rid of stuff out of their backyard. If you are after beautiful old Australian hardwood paling fences, rails and posts get in touch with your local fencing contractor. They will gladly let you take away the old fence.
Many plastic products made from recycled milk containers etc are being made into garden seats, replica sleepers, garden edging and drainage pits. The technology is improving and the replica work is looking pretty accurate if that's the look and finish you are after.
The key to satisfying landscape installations using recycled/reclaimed materials starts with an eye for the possible, the creative and an attitude of "You never know when that might come in handy".
Grant Saltmarsh is a landscape designer and founder of Earth Art Designs located in the Central Victorian Highlands.