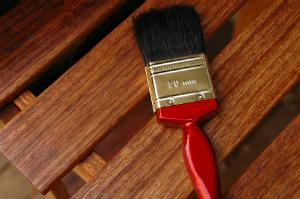 As anyone over 40 will tell you, the past gets better with time. Just think classic cars, vintage clothing and antiques. Now, recycled building materials have leapt from scrapheap to boutique, with good reason. There's no more effective way to infuse a home with individuality, warmth, character and soothing tactility than to embellish it with time-honed timber. Melissa Rimac reports

Sue and David Ross's house is perched on a ridge overlooking Palm Beach, one of Australia's most celebrated stretches of golden sand. Yet, most unusual for this dreamy location, it takes a while to notice the wonders unfurled below, so captivating are the home's internal details.
Step into the living area, where usable nooks add intrigue as well as functionality, and you can't help but be seduced by the unashamedly tactile, gloriously aged timbers in tones of honey, chocolate, blond and burgundy, melding magically to create a space at once slick and contemporary, yet resonant with warmth.
Taking centre stage are towering ironbark posts that surge towards the sky, framed by aged blackbutt boards. Each post — a feature in its own right — is alive with organic textures, gorgeous grooves and tall tales of former lives as bridges, wharves and shearing sheds. Corner posts have been ingeniously exposed both internally and externally. The vaulted ceiling, where exposed trusses — fashioned on site from recycled blackbutt, exposed bolts lending an industrial edge — coaxes you to visually savour an oft-neglected area. Tucked into one of the nooks is the kitchen, its island a funky fusion of corrugated iron and bluegum. Upon the huge sandstone fireplace — Sue's pride and joy — rests what appears to be a massive slab of ironbark, in fact three immaculately joined pieces.
Move through the house and the sensory journey unfolds: blackbutt stairs and handrails; in bathrooms, recycled timber vanity tops and benches; on the huge decks, a procession of chunky hardwood posts, balustrades and handrails.
For David, envisaging recycled timber as a defining element of the home sated a yearning to reconnect with the nostalgia and romance of the woolsheds of his youth. For leading northern beaches builder Ian Thomas, creating the Ross home represented an opportunity to flex creative muscle, exercise his signature keen eye, attention to detail and precise craftsmanship and bring out the best in materials he's passionate about.
Thomas took particular care to ensure that the integrity of these unique materials was respected. The living room posts, for instance — so pivotal to the overall effect — were grinded rather than sanded or planed back, visible blade marks rendering them richly rustic. An oil — which enhances the tones and textures of timber — was chosen as the protective coating. Whispers of former incarnations can still be heard in streaks of paint, industrial markers and nail holes.
Here, the overall statement achieved by the recycled timbers, while dramatic and elegant, is soothingly sensual. And it simply wouldn't be possible with materials that come wrapped in plastic.
Two beaches south — at Jane and Kim Sheridan's house at North Avalon — a quite different, but equally evocative effect has been achieved using a wide range of recycled building materials. You'd never guess that the house once embodied all the grace, elegance and charm of a brick veneer and tile, utilitarian bunker, having recently evolved into a spacious, seriously stylish beach house.
The extent of the transformation is profound; you'd swear the house is one of the area's few remaining "fisherman's cottages".
Like many who buy into Sydney's sought-after Northern Beaches, Jane and Kim "loved the block but hated the house", when they moved in 12 years ago. For Kim, the low ceilings and enclosed spaces proved almost intolerably oppressive, while Jane was irked by the scarce space and austere aesthetic. Though funds were limited, the urge to blot out the "project home" look proved overwhelming.
Enter Ian Thomas, who orchestrated an initial facelift which saw walls come tumbling down, shady, low–slung verandahs embrace the original red-brick edifice and the house re-clad in a more befittingly beachy combination of weatherboard and fibre–cement sheets.
More recently, Jane and Kim — once again in concert with Thomas — went all the way, adding much-needed space and fully expressing a style they love. "We find this look very familiar and welcoming — a bit like going to Granma's," says Jane.
After declaring initial plans prepared by a building designer "comical", Kim Sheridan and Ian Thomas fine–tuned a design offering enhanced space and exemplifying the relaxed "beach house" effect the couple longed for. Thomas, a passionate advocate of recycled materials, was in his element here. "When you use good-quality recycled materials, you've gone beyond construction; it becomes an artwork. Every piece tells a story," he says, adding that aged hardwoods have the added advantage of being less prone to movement.
Recycled materials, explains Thomas, lend themselves equally well to either modern and traditional designs, or, as is the case with the Sheridan house, a tasteful fusion. He does, however, urge restraint. "To maximise the effect, they work best when used as a feature." As with the Ross house, this design philosophy of embellishment — rather than overkill — has resulted in a home that's classic to its core.
Intrinsic to the overhaul was the reconstruction and re-pitching of the roof, which worked a treat — "opening up" the house, enticing light and establishing a breezy spaciousness. At Thomas's suggestion, all timbers from demolished sections of the house were retained.
This salvaged hardwood, combined with old timbers collected from previous building sites, now embellishes the newly clean-lined interior with exquisite, textural detail: exposed ceiling beams, handrails, hand–made clerestory windows, customised vanities and inbuilt furniture. Outside, Thomas has further featured the timber by exposing lintels and using hardwood strips in place of flashings and creating slanted screens from slats of hardwood that catch the eye as well as shafts of morning sun.
Cumbersome, pokey "hopper" windows were replaced with large stacking timber windows which Kim had rescued, together with huge timber sliding doors that open onto the newly added deck. Inside, solid cedar and art-deco doors lead to verandah-like bedrooms.
In the now expansive living area — rendered cathedral-like thanks to newly soaring ceilings — three mammoth, quite magnificent ironbark posts command immediate attention. Though each post cost over $1000 —almost double when labour and associated expenses like cranes are included — Jane has no qualms. "I'm constantly amazed at how striking a feature they've become," she says.
In keeping with the unpretentious vibe, exposed timbers have been given minimal treatment and left uncoated. "There's no point going berserk with a sander; just give it a quick kiss with a wire brush or a blade otherwise it defeats the purpose," says Thomas, also warning against smothering old timbers in treatments. As he says: "Why create a maintenance problem?"
Using recycled materials is, overwhelmingly, a means of achieving a unique effect rather than saving money, Thomas stresses. "It can be very labour intensive — and hence expensive," he explains. "You can end up spending more than if you'd used new materials."
In this case — because most of the recycled materials used were free — costs have been on par with what they would have paid had they used new materials. The big dividend, however, has clearly been style.
But beyond aesthetics and the potential of recycled materials to impart individuality, quirk and character, there are other sound reasons to look to the past for inspiration, says David Lawrence, NSW manager of Archicentre, the Royal Australian Institute of Architects Home Advisory Service.
"It makes sense not to waste what can be re-used and it can save you thousands of dollars in disposal fees," he says, adding that: "People are becoming more aware of the need to be sustainable."
So much so, that the demand for quality recycled building materials has surged to a point where they're fast becoming scarce. As with all great opportunities, be quick or you'll miss your moment.
Tips for using recycled building materials
• Spotted something you love? Grab it! Chances are it won't come up again.
• Aim to avoid a hodge–podge. Use materials sympathetic with the effect you're trying to achieve.
• The more the rest of your structure will have to be re-gigged to fit in with the recycled materials, the more it will cost you.
• Look for materials requiring minimal treatment: windows, for instance, should be in good working order and, in the case of timbers, straight with few nails and of suitable length.
• Old timbers aren't "rated" for load-bearing capacity so there may be implications regarding certification and insurance. Check with your building certifier, engineer and insurer.
• At specialist recycled timber outlets you can buy old timber with the nails pulled up, then run it through a saw, planner or angle grinded and save on-site labour costs.
• Think of your carpenter as a surgeon of sorts — there's no turning back from a bad cut! Old timber is extremely difficult to work with and unforgiving, so make sure your carpenter is very experienced and skilled in using these materials. Issue clear instructions (diagrams can help). If we're talking an irreplaceable piece of timber, you might be best off watching carefully — as I discovered after losing an irreplaceable gem to an assumption of understanding.
• It's all in the application. Use the toughest timbers in the most exposed areas; externally, horizontal-laid timbers will weather much quicker than vertically laid.
• Keep timbers aerated and avoid use in damp places.
• Careful with coatings — treatments which form a membrane age very ungracefully, whereas oil-treated surfaces can be re-oiled regularly.
• The "dressing" you choose will have a huge impact on the overall effect.
• Get as much pre-use treatment done by the supplier as possible — such as denailing.
• Where exposed timbers are to be married in with other materials, such as gyprock, extra care must be taken and particularly skilled tradespeople are required.
(Source: Ian Thomas)
Sources
Finding what you want can be difficult, and when you do, possibly more expensive than its new equivalent. Depending on your diligence and luck, along with old timber you may find doors, windows, fireplaces, floorboards, light fittings, stenciled ceilings, sinks, old bricks or, if you're really blessed, sandstone.
Here's where to start:
• Yellow Pages.
• Some Municipal Tips have recycled building materials sections.
• Newspapers, especially local papers and The Trading Post — entire houses, or parts thereof, are sometimes given away.
• Approach the owner or site manager of a house, or other structure (old factories and commercial premises, for instance, can be an absolute treasure trove of re-usable materials) about to be demolished and ask if you can take selected items.
• Contact demolition and construction companies (who often handle the demolition of previous structures) to find out about future and present projects — preferably armed with a case of beer
• Scan local papers for council information re upcoming rebuilding / renovation projects. Other homeowners may be thrilled for you to take their waste off their hands.
More
Ian Thomas can be contacted on: 0413 672 924 or email: thomasbuilding@optusnet.com.au
Archicentre is currently conducting a program — "Mosman Green" — whereby two old cottages are being renovated according to Environmentally Sustainable Principles. See: www.archicentre.com.au.