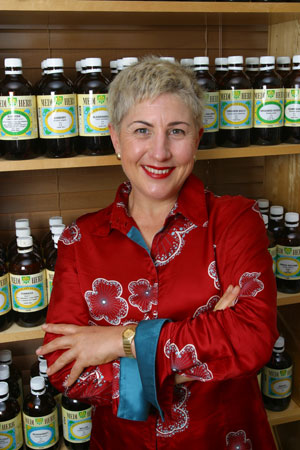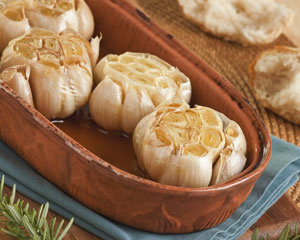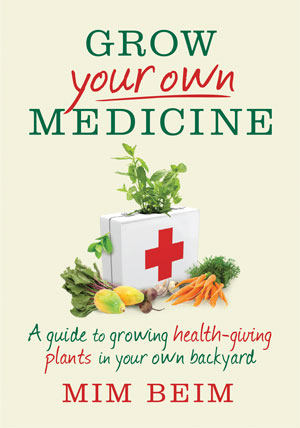 Mim Beim is a highly respected nutritionist and naturopath who graduated from Nature Care College with the Nutrition Prize in 1988 and has since helped to create two television series on Foxtel. She also appears on many television and radio shows and is a regular contributor to a variety of magazines and newspapers.
Her new book Grow Your Own Medicine is a guide to creating an organic medicine cabinet in your own backyard. Her step-by-step guide reveals the medicinal powers of herbs, vegetables and fruits, and shows you how to grow and use these plants to prevent diseases, treat everyday ailments and promote general good health.
Published by ABC Books, Grow Your Own Medicine is available at all good book stores.
What was your inspiration to write this book?
I think times are changing with respect to people feeling that they can have control over their health by eating well and eating foods and taking herbs that can prevent illness. Also, I believe there is a growing desire for a mostly urban society to feel a closer connection to the earth. What better way than growing your own medicine?
Where would you recommend someone start if they are not necessarily blessed with a green thumb but would like to set up a small garden?
It's probably best to start with the culinary herbs such as thyme, parsley and mint. They are easy to grow and just require some sunshine — they're also very handy to add to your cooking.
What do you consider to be some of the easiest plants to grow and care for?
Aloe vera, also known as the medicine plant, is an easy plant to grow as it thrives on neglect. Aloe vera gel is terrific for soothing sore, irritated skin and burns.
Which would you consider to be more challenging and for the more experienced gardener?
Most of the plants I have chosen are relatively easy to grow. However, a challenge would be to try to grow a plant not suited to your conditions. For instance, ginger likes a warm climate, so if trying to grow it in southern Tasmania you would need to find a position that's protected from winds and plant it near a light-coloured, north-facing wall to create a micro climate that resembles a more temperate area.
Are there some plants that are more versatile than others? And, if so, what would be your top three picks and why?
Garlic is a multipurpose plant; it is a must in so many meals for its flavour, but it is also helpful to prevent heart disease and some cancers. It is antibacterial, so helpful in treating coughs and infected respiratory infections. Ginger, again, is a wonderful flavour in food. It is an effective anti-inflammatory, taken in food or tablet and also as a compress. Ginger is also a very effective treatment for nausea and tummy upsets. Peppermint is cooling for the body and helps digestion.
Why do you think we've lost touch with the healing properties of plants and what can we do to regain and retain this knowledge?
Until a couple of generations ago it was common for the mother or grandmother to create concoctions from onions and other plants in the garden as gargles or poultices. More recently, medicine has been relegated to needles and tablets. By reading books such as this, or asking your great aunt or grandmother, is a way to reclaim this valuable resource.
Whole roasted garlic
This makes a magnificent accompaniment to a roast dinner. The cloves slip easily out of their papery sleeves and the taste is creamy and surprisingly mild. Slice a few millimetres off the top of a whole bulb of garlic. Drizzle with a little extra-virgin olive oil and a sprinkle of sea salt. Cover with foil and bake at 150–180?C alongside your chicken or lamb roast for one hour.
**extracted from Grow Your Own Medicine by Mim Beim**