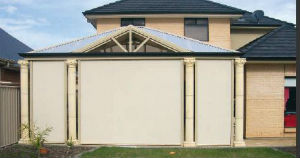 Contemporary blinds and awnings that offer sun protection, security and privacy
ICL (SA) offers two flexible, easasy-to-operate and elegantly simple modern shade solutions: the CHANNEL-IT blind and the CHANNEL X side channel awning system. Suitable for just about any residential or commercial application, these highly adaptable products combine quality with low maintenance, and contemporary styling with reliability.
CHANNEL-IT and CHANNEL X are the ideal replacements for those old rope and pulley or zippered patio and verandah blinds. Just the thing for modern homes or structures where the architecture is clean and uncluttered, the edges of the blinds are hidden, the blind fabric is taut and there are no messy-looking ropes to worry about or zips to break.
CHANNEL-IT and CHANNEL X allow the homeowner to take the indoors outside, providing all-year weather protection to otherwise exposed areas such as patios and pergolas. They also offer increased privacy and add to the security of your home — no peeking around the side of the blind or awning to peer inside.
Depending on the fabric you choose, you can significantly reduce the amount of heat that can penetrate your home by using CHANNEL-IT or CHANNEL X. This brings you added comfort on a blistering-hot summer's day and reduces your reliance on energy-hungry air-conditioning.
ICL (SA) offers a wide selection of fabrics, allowing you to match the material, block-out levels and colour to suit your needs and your home. Metal components can also be powder-coated to complement the existing window trims and metalwork (gutters, posts etc) on your home. By creating a fully coordinated look, it not only enhances the visual appeal of your home, it also adds to its value.
ICL (SA) offers a nationwide service. No matter where you live in Australia, the company can put you in touch with a distributor or fabricator close to your home so you can be assured of a prompt response.
ICL (SA) prides itself on providing premium-quality products and a high level of customer service. All components are normally held in stock and while powder-coating times may vary, delivery and installation is generally two to three weeks after the deposit has been taken.
For more information
ICL (SA) Pty Ltd 3A Wirriga Street, Regency Park SA 5010 Phone (08) 8347 4500 Fax (08) 8347 4477 Email sales@iclsa.com.au Website www.channel-it.net.au