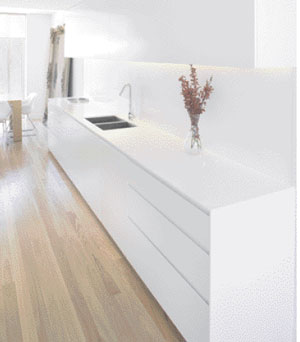 Fresh colours combine with striking lines to create a minimalist masterpiece.
A spotless design calls for a spotless canvas and, after the previous derelict abode was knocked down, this beautiful home and kitchen came to life. Attention to detail is obvious from start to finish.
Visitors now comment on the clean, crisp exterior and marvel at the clever design and layout. All the major appliances, including the refrigerator, have been kept out of sight by integrating them into the cabinetry, with even the microwave hidden away. The exquisite Clark Epure sink, though, is kept on display to enhance the room's sophistication and minimalist appeal.
The designer has created a continuous finish throughout this open-plan space, from the living room through to the kitchen and into the dining room, by using recessed splashbacks and seamless benchtops. Integrated lighting washes across the splashback, creating an interesting, moody space.
With such an exciting range of sinks to suit every taste and budget, it is no wonder the owners were able to get the look they wanted with the installation of a Clark Epure sink. No longer does your kitchen sink just need to be a place to clean and rinse. As seen with this kitchen, a modern touch on a classic design can make all the difference to a top-quality design. By utilising superior sink and tapware options, any design can be enhanced.
This is minimalist design at its best and with so many storage opportunities, it is sure to remain this way for many years to come. Seamless, clean lines run with crisp colours and textures to add a fresh and fascinating appeal.