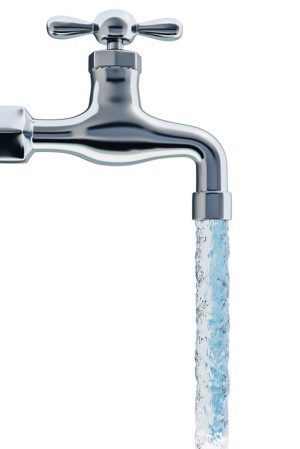 There are many ways to integrate water into a garden, turning it into a design feature
Story: Janine Mendel
Whether we introduce water into the garden as an elaborate feature or as a simple, natural pond, we are adding another dimension to the space. Human beings are instinctively drawn to water and seem to derive a feeling of profound tranquillity in its presence.
As house sizes continue to increase and garden spaces decrease, homeowners are struggling to find clever, space-enhancing ways to turn their gardens into havens of relaxation — enter the era of the water feature.
In Australia we have borrowed ideas for our gardens and water features from many different cultures but a new unique "Australian" style is beginning to emerge. As with the design of the house itself, we are becoming more sophisticated and discerning about our created landscapes. While we may draw inspiration from other countries, the challenge for landscape designers and architects is to successfully reflect this emergent style without slavishly reproducing current trends.
The idea of garden as art has become very important to landscape designers and with contemporary and traditional houses now incorporating more glass, we should be creating visually exciting spaces to view from indoors. Our houses should look like they have been "planted" in the garden instead of the garden being the "leftover" space. To this end, it is best that a designer becomes involved very early on in the design process of a new home so that synergy is created between indoor and outdoor zones, without the function or aesthetic of either being compromised.
When incorporating water into the garden, the most important consideration is for the feature to be in harmony with the architecture of the house and an integral part of the landscape design. Designing a stand-alone water feature is seldom a successful enterprise as it looks contrived and pretentious. Whether incorporating a simple water bowl or designing something far more sophisticated and original, the water feature should reflect the overall character of the garden. The aim is to create a focal point that is enduring and timeless.
The physical characteristics of the available space often dictate the optimum size and shape. Bigger is not always better, but as it is often the single most expensive item in the garden, what is important is that the water feature is visible from as many vantage points as possible. Consider where you will be placing your outdoor setting and decide on a location where the furniture doesn't obstruct the view from inside the house.
If you are planning something structured and formal, look to the architecture of your house for clues. If you want something more organic, look to nature for your inspiration, making sure rocks and plants are placed in a way you would expect in the natural environment.
And don't forget lighting as this can transform the simplest of water features into a dramatic backdrop. Nor should you overlook the softening influence of fish and water plants.
Garden styles come and go yet it seems that water is an elemental component in the contemporary landscape. In recent times there has been a move towards softer, more inviting outdoor environments to compensate for the harshness of the climate. This involves the creative use of indigenous plants and a more contoured and natural style, providing a uniquely Australian sense of place.
Janine Mendel is an award-winning Perth-based garden designer and the director of CultivArt Landscape Design.