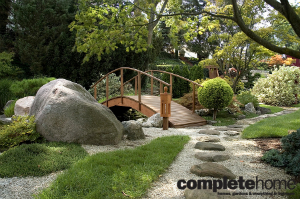 An outdoor space for a family who love entertaining and gardening in equal measure
Story: Carey Cavanagh
Photos: Patrick Redmond
The owners of this property were very keen to have a garden that reflected their love of plants and gardening but also catered for the needs of their teenage sons. As the designer of this garden, my brief from the owners included a swimming pool and spa, entertaining areas and lawn together with lush, green plantings, the whole effect of which was to be timeless and have a "sense of place".
My first visit to the site revealed a large double block containing a big, old camellia, which the family wanted to retain, large areas of lawn dominated by an ornamental pear and areas of unsatisfactory-looking paving next to the single-storey brick house.
The house is traditional in style so gave obvious clues as to the style of the new garden. Of course, the standout feature is the swimming pool and spa but in planning the garden, while the pool became the obvious focus, it was also important that it shared centre stage with the planted areas.
Because the owners have a genuine appreciation of plants, I wanted to design deep garden beds to create seasonal interest and also divide the garden into separate areas. The plantings needed to be tough enough to withstand minimal watering once established, even with the aid of a new rainwater tank.
The pool was placed on a direct axis from the family room of the house with a large urn at its end to provide a focal point. This urn nestles among a row of Magnolia 'Little Gem' — a dwarf form of Magnolia grandiflora that's much loved for its richly coloured leaves (green on the upperside, copper on the underside), long flowering period and large, white, open flowers — and is anchored by spheres of Ligustrum rotundifolium.
The family requested hedging to create structure but with allowance for looseness within the plantings. A large border garden alongside the pool has a frontline of low box hedging, with a rear hedge of Viburnum odoratissimum (better known to many as sweet viburnum) which will, in time, screen the new garden shed, water tank and utilities area.
Lagerstroemia indica 'Tuscarora' are planted as focal points in this bed, together with Cotinus coggygria (sometimes referred to as smoke bush) for its deep-purple foliage. Drifts of bright red cannas provide sparks of colour, combined with bands of Liriope muscari and Euphorbia martinii. This area is a highlight during the summer months, with varying stages of flowering.
Paving chosen for the garden was Anston pavers in a charcoal colour to tie in with the residence.
Around the old camellia, mass plantings of Arthropodium cirrhatum provide a magnificent display in late spring, as well as being the ideal species for the dry shade location. Other plantings in this area mainly include Helleborus orientalis, a Cercis canadensis 'Forest Pansy' (a deciduous feature tree with deep reddish-purple foliage, for which the owners have a soft spot), more liriope and a lemon tree.
Brush fence screening houses the pool equipment and keeps it out of view from the rest of the garden.
Along a side boundary, an avenue of ornamental pears (Pyrus calleryana 'Chanticleer') provides some screening from neighbouring properties. Viburnum odoratissimum again features as a rear hedge, with Hydrangea quercifolia mass-planted beneath the pears to provide creamy flower panicles for long periods.
Stepping stones placed directionally through the drought-tolerant buffalo lawn lead to a separate and private paved courtyard in which the owners can enjoy barbecues. This area is screened by a tall hedge of lilly pilly (Syzygium australe 'Select Form') which gives formality and structure.
This garden has become a joy for the owners. It is a haven for their family and friends to enjoy and it provides plenty of opportunity for them to indulge in their passion for pottering in the garden.
About the author: Carey Cavanagh is a Melbourne-based garden designer and founder of Carey Cavanagh Landscape Design & Construction.